Hey guys! I recently finished my journey with Six Month Smiles and promised to give a recap and honest review of my experience. I'll jump right into it…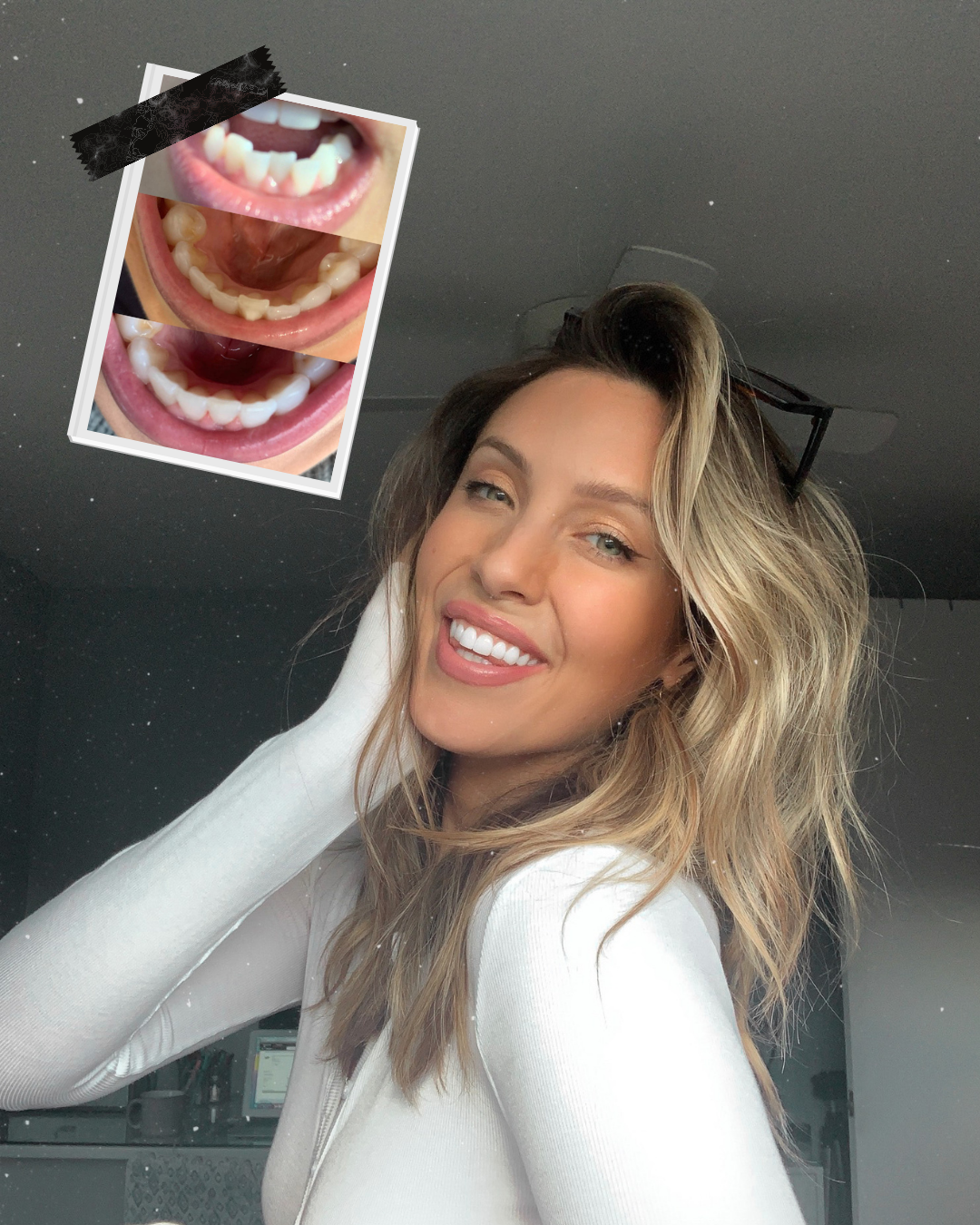 For starters, all of my cosmetic dental work was done by Dr. Susan McMahon in Pittsburgh. She did my two front veneers about 4 years ago. Long story short, I cracked half of my front tooth off prior to meeting Dr. McMahon. It was just a few days before Christmas so I had no choice but to get squeezed in with my childhood dentist who was NOT specialized in cosmetic work. On one hand, I didn't look like a degenerate during the holidays. But the quick fix was ultimately going to need redone. So that's when I met Dr. McMahon and she gave me two perfectly natural-looking front teeth. Seriously, they look amazing and no one would ever know they were fake.
Fast forward a couple years after my veneers, I decided I wanted to perfect my teeth once and for all. My tops were "fine" but my bottoms were the biggest problem. I had braces in middle school but I never wore my retainer so I was back to square one. Sorry mom and dad. Anyway – I knew I wanted to stick with Dr. McMahon to straighten my teeth. I totally trust her and would recommend her to anyone in and around the area.
Let me give you the 411 on my personal experience Six Months Smiles. These are all questions I've gathered from IG/DMS etc.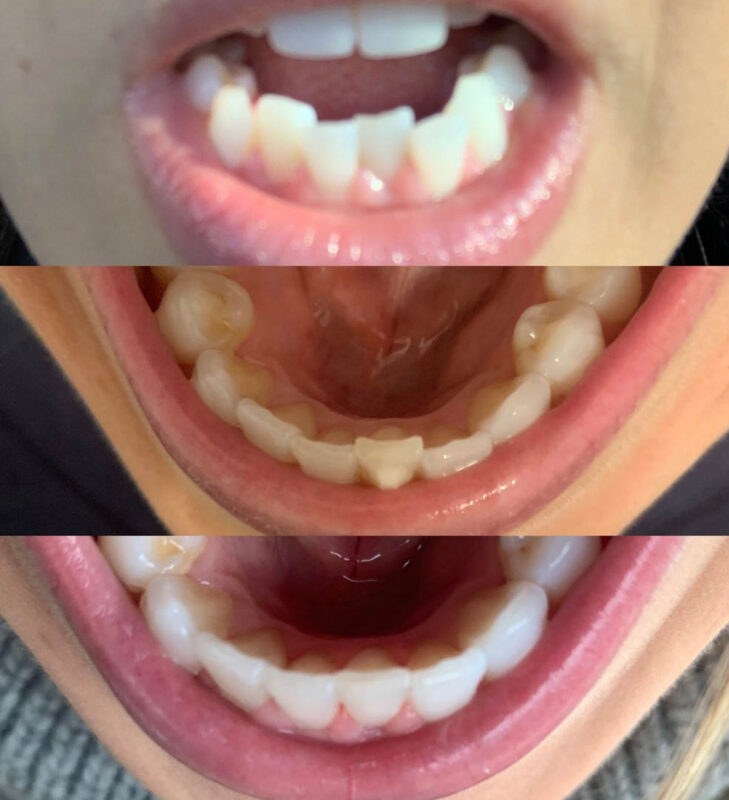 What's the main difference between Six Month Smiles, Invisalign, and SmileDirectClub?
Disclaimer: I'm obviously not an expert in this field so be sure to consult with a professional. But to my knowledge, Six Month Smiles is essentially the same as Invisalign. Just a different brand. With both of these, you see a dentist IN PERSON every month or so to ensure your teeth are moving correctly during the process. You'll get little buttons/attachments temporarily bonded on your teeth to help them track properly and effectively. Your dentist can also do some IPR if you have a lot of crowding which was the case for me (more on that below). With SmileDirectClub, you do not see a dentist in person and your trays are sent through the mail. I personally did not feel comfortable with this option which is why I went with Six Month Smiles. They are all clear aligners, though.
What did they actually look like?
Like I mentioned above, you'll get tiny attachments on your teeth that lock into the trays. They're tooth colored… so alone, they are not terribly noticeable. But just a heads up… they are fairly noticeable once you have the clear trays in. The trays have little indentations for these attachments that bubble outward which kind of gives the same look of braces. Google and you'll see what I mean.
The placement of these attachments is different for everyone. Fortunately, I only needed a couple of these on my top row which were mostly on the sides/towards the back of my mouth. My bottom teeth needed more work so I did have more there. You can see one of my attachments in the middle photo at the beginning of this post.
All in all, clear aligners are definitely less obvious than metal braces. But not necessarily indetectable if you will.
Did the process hurt?
Okay, I wasn't prepared for the pain the first 24-48 hours. I don't think this is typical but I had a lot of discomfort after my initial tray set. I remember coming home from work and actually shedding tears because I thought it would feel like that with every tray change. But fortunately that was not the case! Honestly, I had a little soreness between all the other tray changes but nothing to really complain about.
How do the trays feel in your mouth?
The first week or so it will feel like you have A LOT in your mouth. There's really no other way to describe it. I remember thinking there was no way I would ever get used to it. But you do. Some of the trays had rough edges which sometimes caused irritation in my mouth but I usually was able to smooth an edge with my nail if needed.
How long did you have them on?
About a year. I believe my original plan was set to be under a year but with the pandemic, I think I got a bit behind. I also needed some extra trays at the end to get my bottoms in better alignment.
What is IPR?
Forgive me if I'm wrong but I believe this is called Interproximal Reduction. This isn't something that everyone needs but I definitely did. I had a lot of crowding on my bottom row so in order for the teeth to move, space needed to be made. This was not painful in my opinion. It's basically like a little piece of sandpaper floss and only takes a minute or so.
Can you eat with the clear aligners?
No! You're only to drink water and clear liquids with them in. Otherwise, you have to pop them out before eating. Which became SO casual for me. Kind of gross and uncomfortable but it was what it was. I soaked my trays in denture tablet solution every day. Not sure if this is recommended for all brands so be sure to ask. In full transparency, if I knew I was changing my trays in the upcoming day or two, I would keep them in for coffee not really caring if they got a little stained. I just made sure to rinse them and brush my teeth as often as I could throughout the day so nothing ever got trapped underneath of them.
How long do you wear them during the day?
You're supposed to wear them at all times except for when you're eating. I forget the actual recommendation but I think it's something like 20+ hours a day.
Did the trays affect your speech?
I was a little lispy especially in the beginning but this is another thing I got used to pretty quickly. I'm not sure if it ever went away completely but I doubt anyone noticed but me.
What happens when you're done with your clear aligners?
Once I was done with the process, I got the attachments removed and a retainer was made for me to wear every night.
All in all I am SO happy with my Six Month Smiles results with Dr. McMahon! My before/after pictures are insane, don't you think?! It was all so worth it in my opinion and I would 100% do it again knowing the outcome. And FYI – this time around I will be wearing my retainer until I hit the grave!
SIMILAR BLOG POSTS: