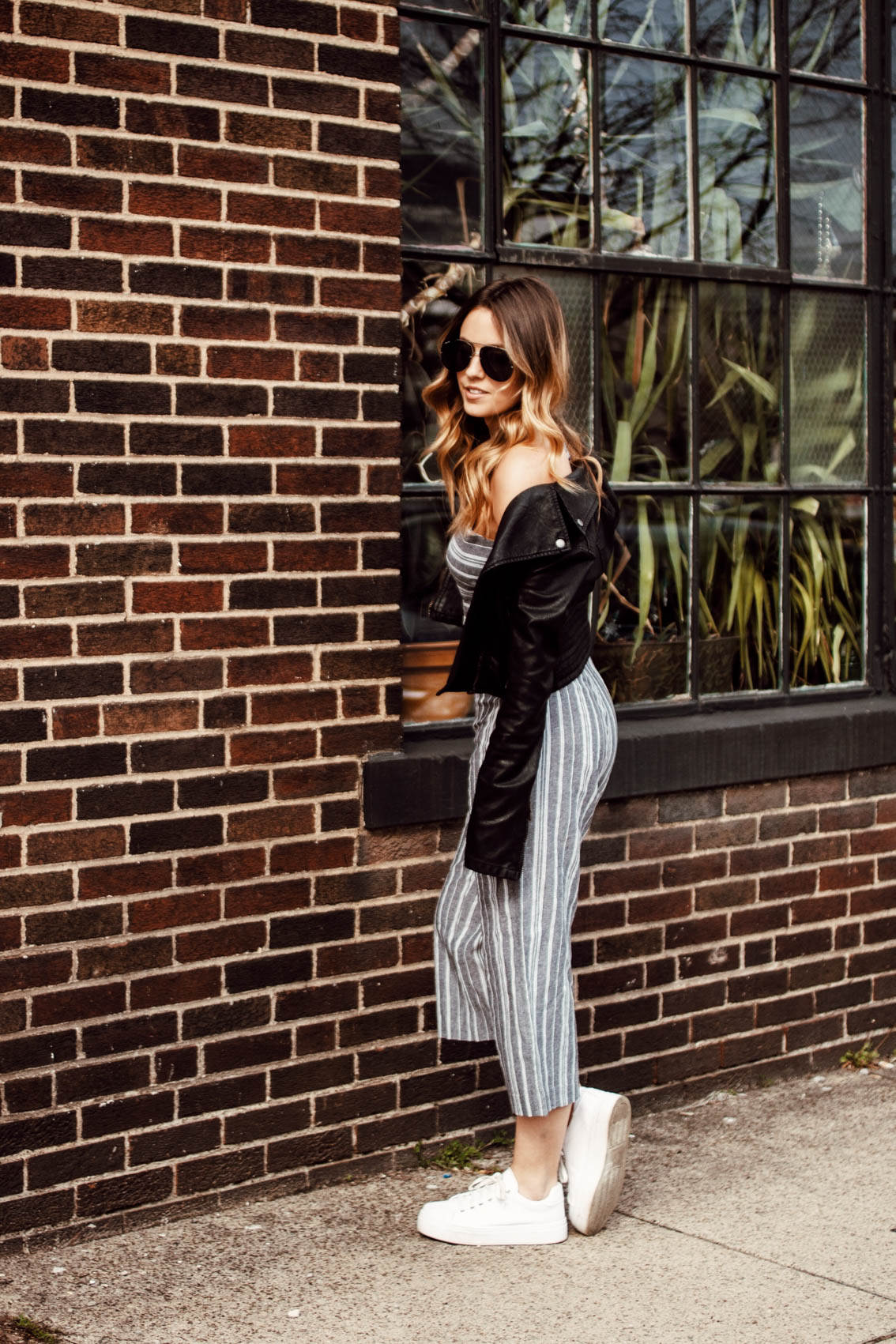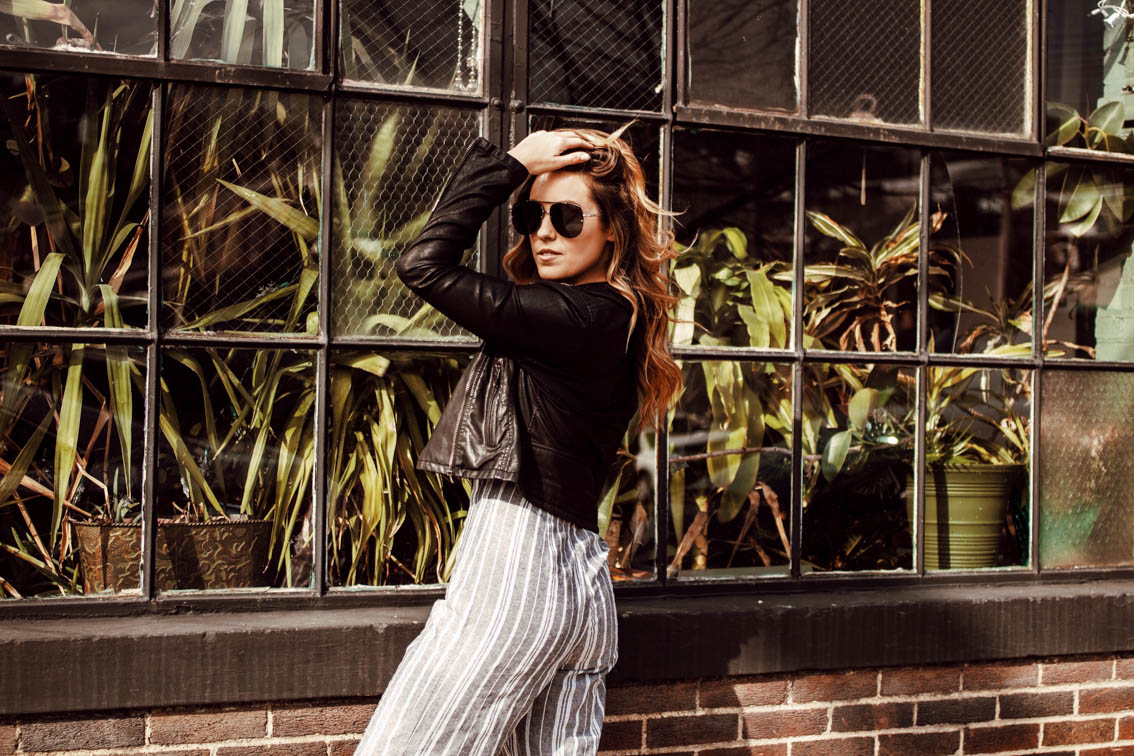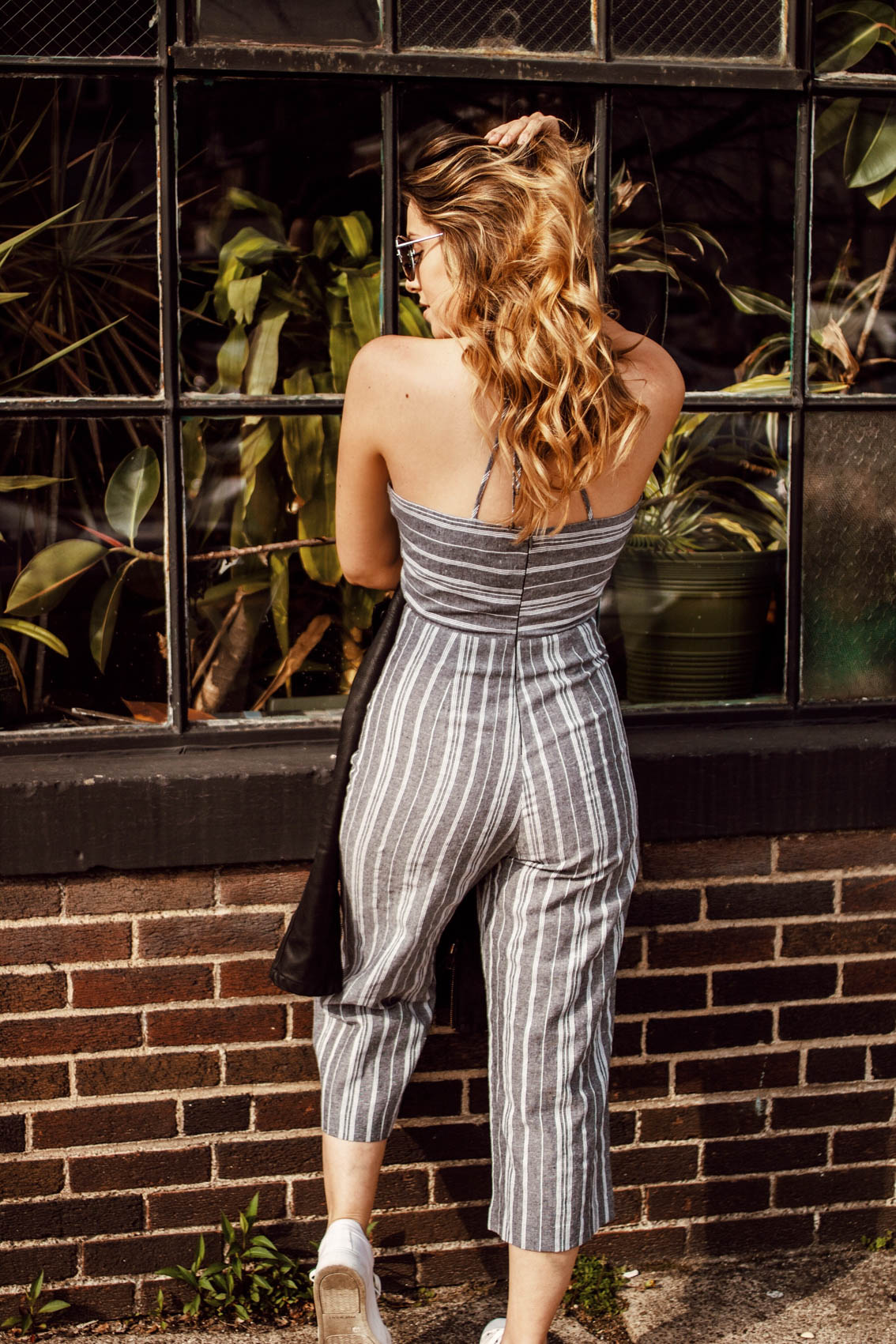 HEARTLOOM JUMPSUIT | BLANKNYC LEATHER JACKET | WHITE SNEAKERS | OVERSIZED AVIATORS
Spring is here despite what the weather is telling us in Pittsburgh.
Call me cheesy but I love Spring because it is somewhat of an all-around reset. You know that moment when winter breaks and you catch a 60+ degree sunny day and everything is alright? I don't know about you guys but my mood, energy levels, happiness, and motivation are all positively impacted. Basically every department of my life gets a little boost.
I've been feeling very inspired lately and I'd love to share some helpful tips and resources for getting your mojo back if winter sucked the life out of you!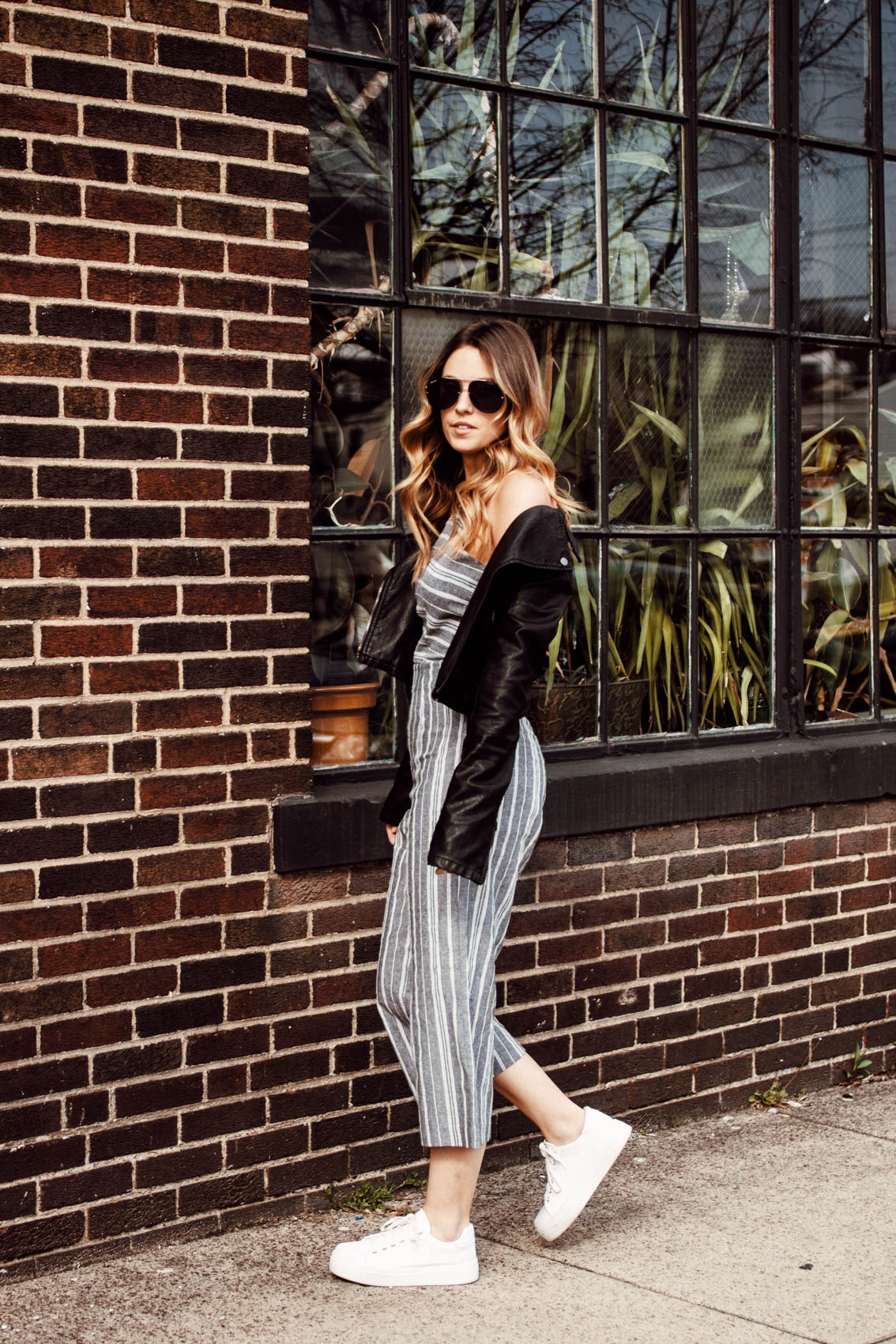 CUT OUT SOCIAL MEDIA FROM YOUR MORNING ROUTINE: This is a "rule" that I'd like to start following more religiously in my own life after hearing it on a podcast episode. Maybe I am speaking for myself but I feel like my generation is wired to roll over and immediately check texts and social sites. As an influencer, this can actually be a buzzkill. If the first thing we do as a blogger is check all of the new pretty pictures and witty captions that have been posted already, suddenly the content you thought you were going to post seems mediocre. Take home note: wake up, do you, then check the social sites. Read this old blog post of mine if you're struggling with the comparison game. It happens to the best of us!
BROWSE PINTEREST: These days, I find Pinterest to be way more inspiring than Instagram. It actually has an algorithm of pins that you WANT to see based off your previous re-pins, likes, and searches. I am a sucker for a good quote board. I also love the platform for recipes, home decor ideas, and cute OOTDS.
LISTEN TO PODCASTS: Lately while I'm driving solo, getting ready, or cleaning, I've been opting for podcasts instead of the radio. There are so many good podcasts out there but a few of my favorites are Second Life, The Influencer Podcast, The Balanced Blonde, The Skinny Confidential: Him & Her, Goal Digger, and Lady Gang. Let me know what your podcast picks are because I definitely want to grow my list.
GET OUT OF THE HOUSE: Now that I am essentially working from home full-time, I find myself going a little stir crazy if I am cooped up in my apartment for days. Putting makeup on and stepping out to work from a coffee shop or cafe can be a refreshing change of scenery to get those creative juices flowing.
NETWORK: I am not the biggest fan of networking at larger events but I do find myself feeling inspired after meeting like-minded creatives. Surprisingly, I prefer a 1 on 1 lunch or meeting. It's cool to learn about another person's aspirations, success stories, ideas, and comparable goals. You never know where certain connections will lead you on your journey!
CLEAN: In my opinion, there is nothing better than a clean, organized apartment. Clutter makes me absolutely insane and 100% affects my concentration. I work better in a tidy environment.
READ: Some books that have inspired me are Whatever You Think, Think The Opposite, Relentless, and The Subtle Art of Not Giving a F*** (sorry Mom – she hates that I have this book).
P.S.
Check out this post if you've got "bloggers block"! I'll talk to you guys soon!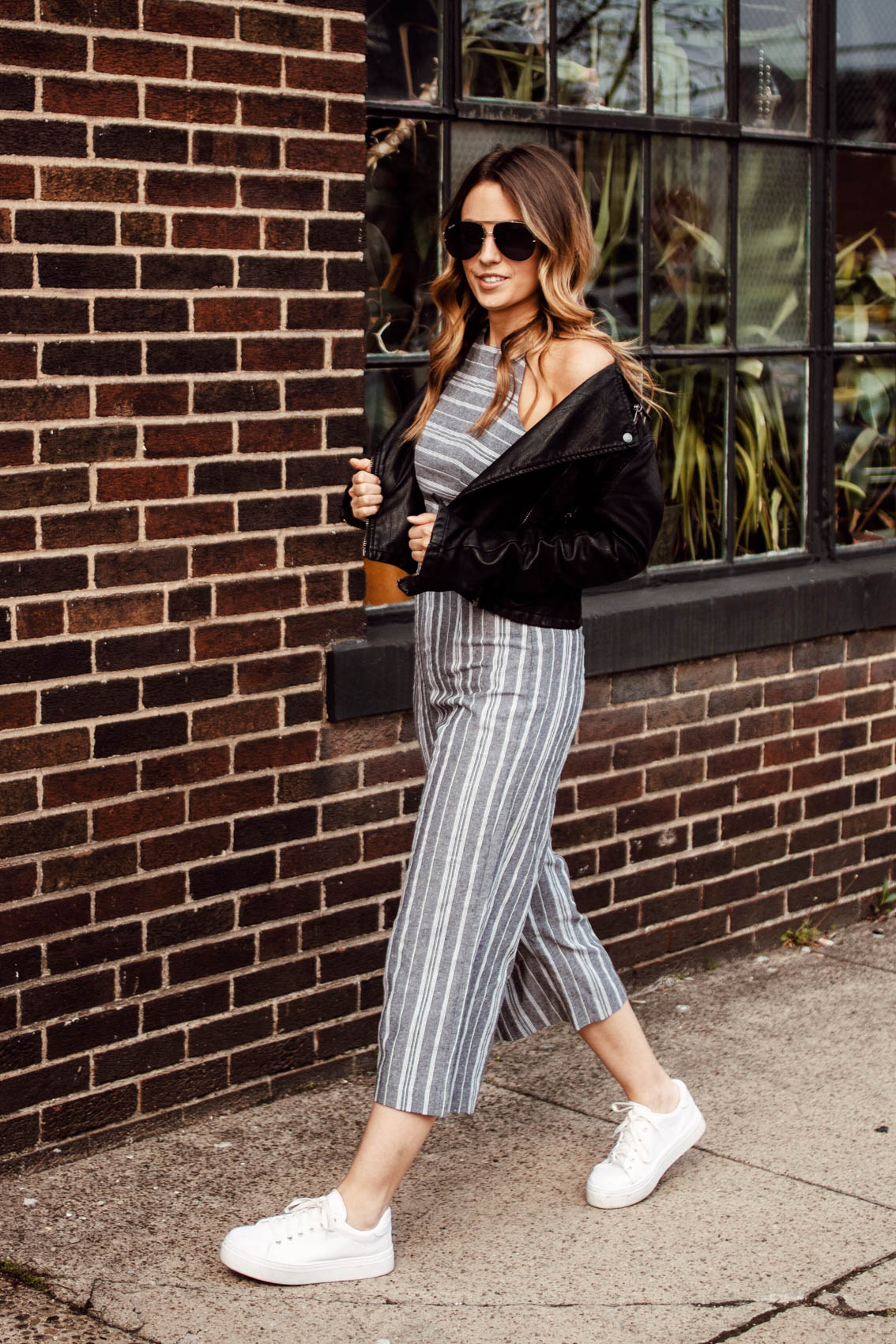 Photos: Victoria Miller
 SHOP LINEN JUMPSUITS