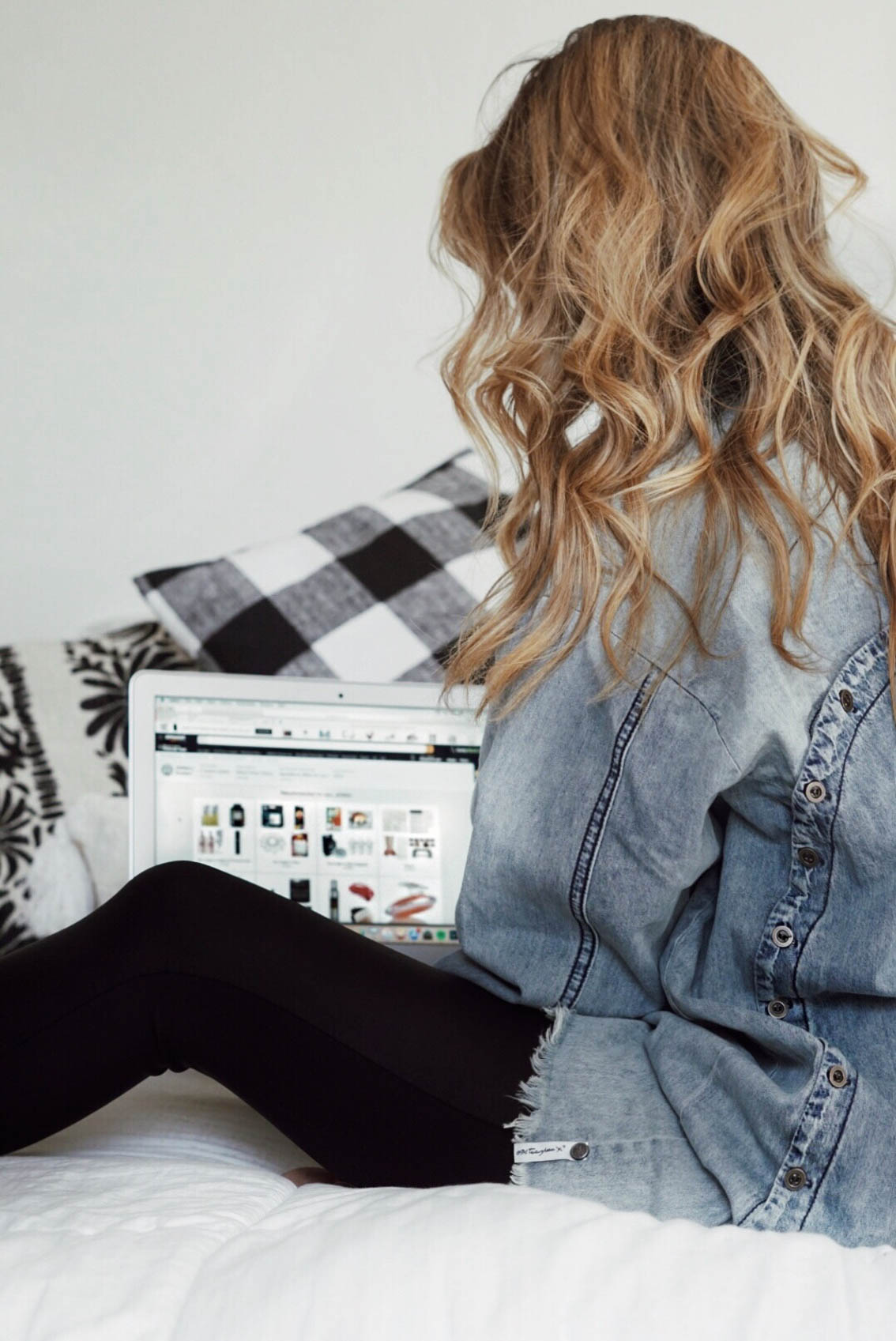 Having an Amazon Prime membership is a dangerous, dangerous thing. Sadly enough, I feel like a "True Life: I'm Addicted To Amazon" could be a real TV series in a few years. But I'm also not judging for one second because it's so dang convenient! I'm pretty sure I purchased 75% of my Christmas gifts off Amazon last year because it basically always has what I need if not something very similar to what I'm searching for.
I must also mention – have you heard of Prime Now? This is NOT sponsored but the Whole Foods delivery service finally came to Pittsburgh and it has been a godsend. If you hate going to the grocery store, make sure you look into it! Call me a millennial, call me what you will, but I am very much obsessed with the idea of having to make LESS pitstops at Giant Eagle. I can't tell you how many times I want to make a new recipe but hold back because I hate grocery shopping.
…But I digress.
Today I'm here to share a sneak peak at MY AMAZON ORDER HISTORY — things I've purchased over the last 3 or so years during my relationship with Amazon Prime. I left out the boring stuff and am only sharing random things that I thought you guys would like to see! Without further ado… 


1 | THAT'S WHAT SHE SAID GAME – If you love a good old game night and getting together with friends and wine, this game is so for you. What is it you ask? It's a hilarious, twisted game of innuendos as you can probably guess from the title! It's definitely adults-only but perfect for any holiday parties you may have! (or birthdays, bachelorette parties, girls nights…)
2 | DIVA RING LIGHT – This is the exact ring light that I use at home!
3 | MY FAVORITE NATURAL FALSE LASHES – I am picky when it comes to falsies. I rarely wear them but when I do, I make sure they are natural and wispy. This is my favorite brand and lash style.
4 | HOOKS FOR HANGING – I use these in my closet for hanging all of my handbags, crossbodies, and hats. Really you can get creative with these though and they help to keep things organized.
5 | HANDY DANDY STEAMER – I haven't ironed a thing in months because this baby does the job. Much easier than dealing with an ironing board.
6 | BATHROOM VANITY JARS – I put Q-tips and cotton swaps in mine!
7 | BUFFALO PLAID DOORMAT – I always get so many compliments from visitors on this doormat. It's so perfect for the fall and winter season! Thanks to Zoe With Love for the inspo and recommendation!
8 | LIGHTWEIGHT TRIPOD – This tripod is lightweight and compact which makes it easy to store away and travel with, take different places, etc.
9 | TINKLE RAZORS – If you've been following me, you know I am an advocate for shaving the face with these! Not sure what I'm talking about, check out this old blog post or this YouTube video.
10 | ROSEHIP OIL – Find out more on why I love rosehip oil in this blog post!
11 | VITAL PROTEINS COLLAGEN PEPTIDES – Collagen peptides promote youthful skin, hair, and nails, strong bones and joints.
12 | TRAVEL-SIZED JEWELRY BOX – This is a necessity if you are big on traveling.
13 | PASTIES – What girl doesn't use these?
14 | WHATEVER YOU THINK, THINK THE OPPOSITE BOOK – A great coffee table book…
15 | NO-ODOR SPONGES – I despise that nasty smell that sponges get after X amount of uses. These smell like peaches and are made of silicone!
16 | THE COMFIEST BOY SHORTS – I promise you…
17 | 42 POCKET HANGING ORGANIZER – Life changing for organizing my lipsticks, sunglasses, belts, etc.
This post is sponsored in part by That's What She Said and Shopping Links.