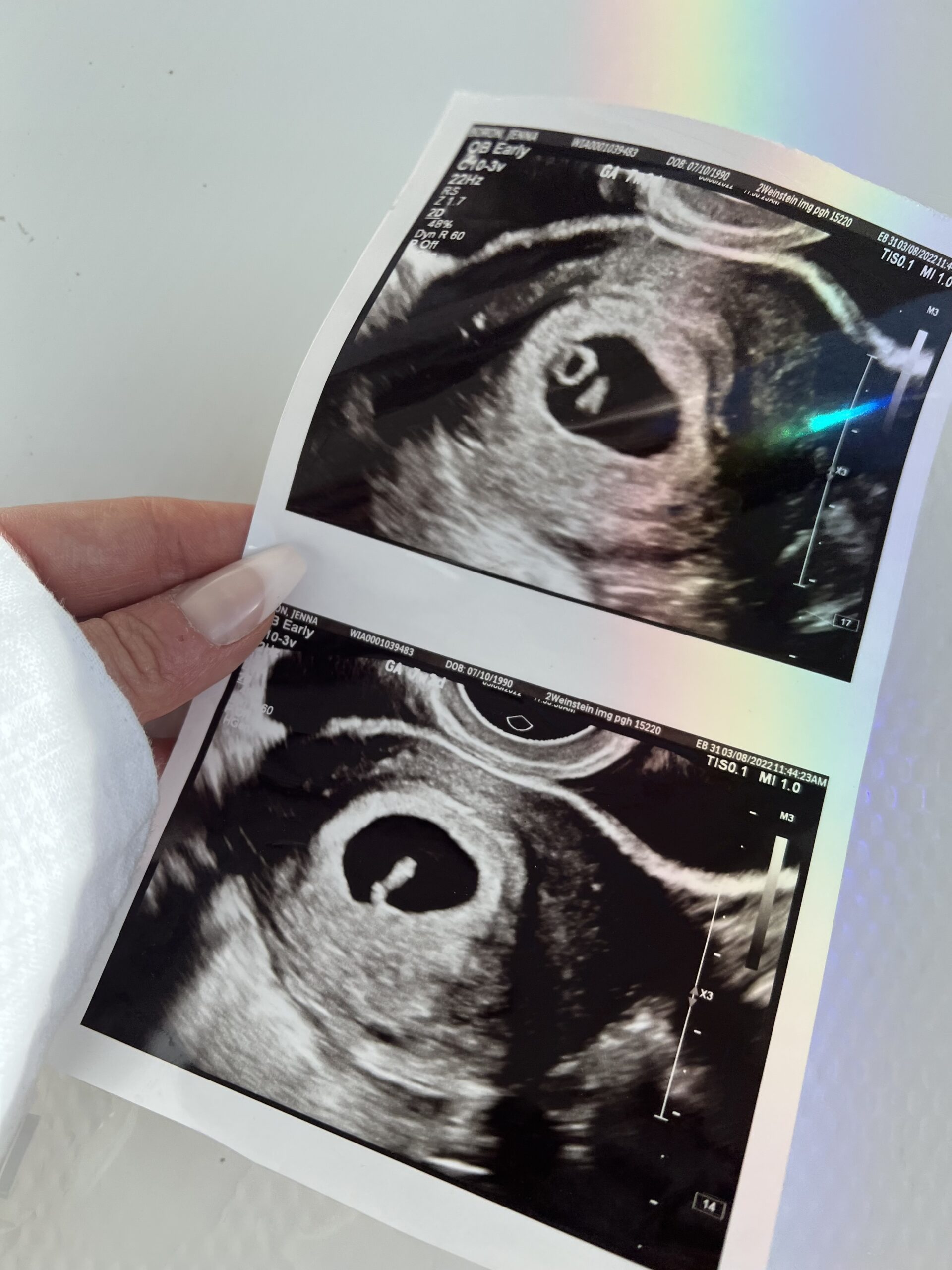 If you follow me on social media I'm sure that you already know that I am pregnant and we have a babygirl on the way! Our due date is 10/23/2022. This will be our first and we are feeling all the feels – excited, nervous, happy, scared, emotional, grateful… you name it, we feel it!
But let's dive into the real details. This may be TMI for some but my job is to over-share so here we go…
THE DAYS BEFORE
I was out of town visiting friends for a baby shower in New Jersey the weekend before I took the pregnancy test. The weekend was filled with an abundance of wine, crappy eating, and everything else you would expect at a girls weekend. I remember feeling so bloated on this trip and had some light spotting. I was also really tired but that could have just been from the travel and drinking. All of those symptoms are pretty standard for me before my time of the month so I didn't think much of it. The spotting stopped after a couple of days and that's kind of when I knew because my period would normally come shortly after that.
TAKING THE TEST
We had been trying so I knew I needed to take a test but avoided it for 2 days upon returning home from my trip. I had to work my nursing job both Monday and Tuesday. It is SO typical of me to procrastinate something like this! BUT, I personally needed to be distraction-free with time to process a potentially life-changing event. My co-workers definitely noticed something was up and kept asking me why I was being "weird"!
When I finished work on Tuesday I drove straight to Rite-Aid to buy a pregnancy test. When I got home I took the test in our bathroom, jumped in the shower while it was doing it's thing, then looked when I got out. Sure enough, it was positive! I was in shock – shaking, happy, nervous. I forget if I cried to be completely honest!
TELLING JOSH THE NEWS
I actually told Josh I was getting my period/not pregnant while I was out of town because I really believed that based off my symptoms. So he had absolutely no clue I was even planning to take a test. I also didn't want to jinx anything or get too crazy about the whole situation so I kept everything internalized. I got the positive test just 2 days after Valentine's Day so as Josh was watching TV on the couch, I ran downstairs to wrap up the pregnancy test and threw it in a gift bag with some tissue paper.
Before giving it to him, I put peanut butter in a Kong for our dog, Bean, in attempt to prepare for a private moment without her jumping on us. She lovessss to be apart of the action and sit on us when she sees we're close to one another. If you have a dog, you know the struggle!
Anyway, I told him I had a late present for him and, of course, he did not expect to open what he opened! I think we were both in shock for a while – probably weeks to be honest! We were both super happy and grateful but it's definitely a surreal moment that takes some time to register! I think I went into full-blown cleaning mode later that evening which is my go-to when I have a lot on my mind no matter if it's good or bad!
KEEPING IT A SECRET
We decided to keep the news to ourselves for a little while until I had my first doctor's appointment and could confirm the pregnancy was progressing with an ultrasound. In the meantime, I had been keeping track of my pregnancy journey in this pretty journal from Etsy. We told immediate family around the 9 week mark and close friends and other family a bit after that. You can watch the video of how we told family and friends here. I publicly announced on social media at 14 weeks while we were in Mexico.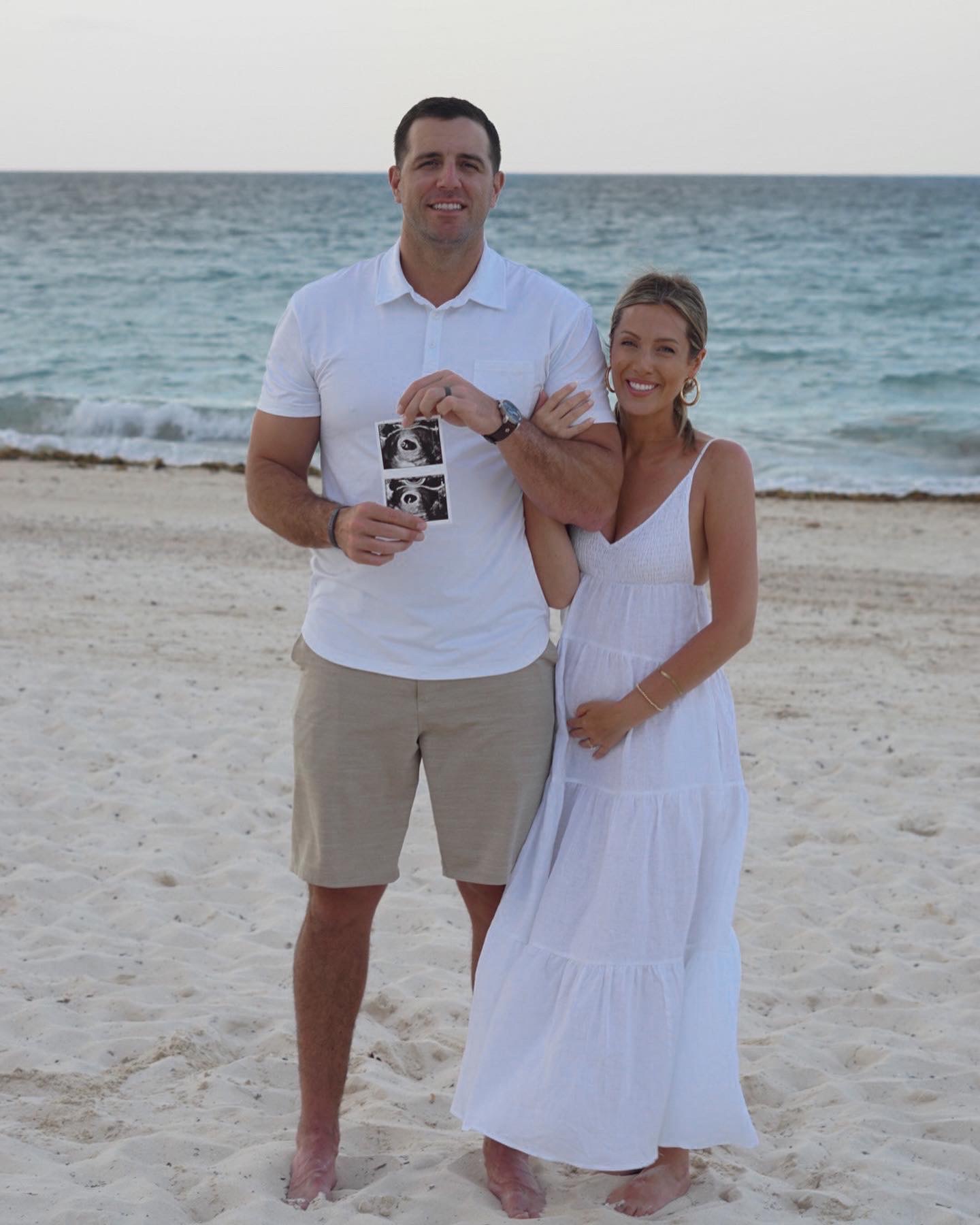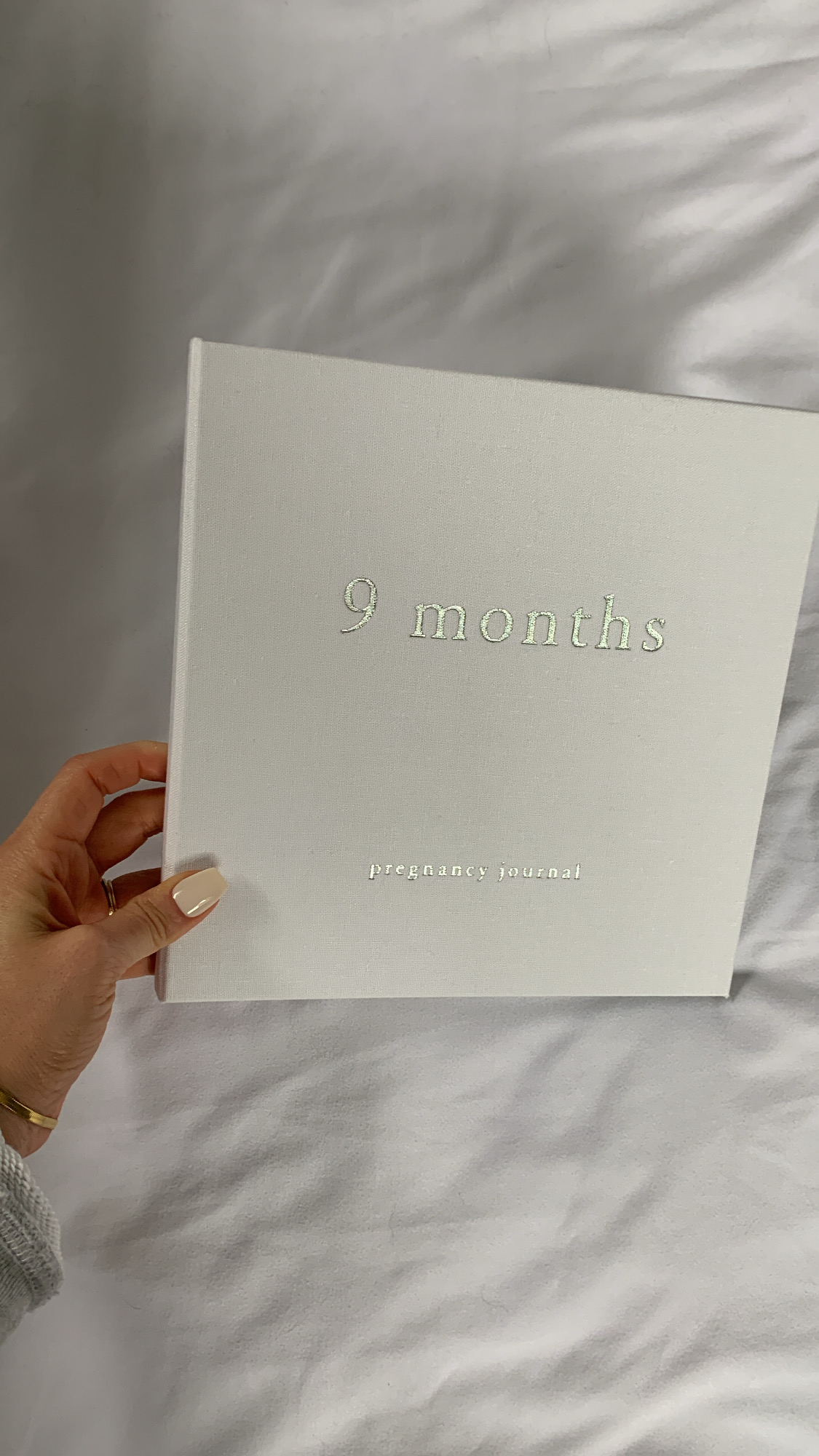 MY SYMPTOMS SINCE THEN
There were a few weeks early on when I felt good as gold and had no symptoms. But then one day – BOOM. I had a pretty rough first trimester. You can read more about my symptoms and other preggo-related content in these blog posts:
SIMILAR BLOG POSTS:
Pregnancy & Bump-Friendly Finds From Amazon
SHOP THE POST