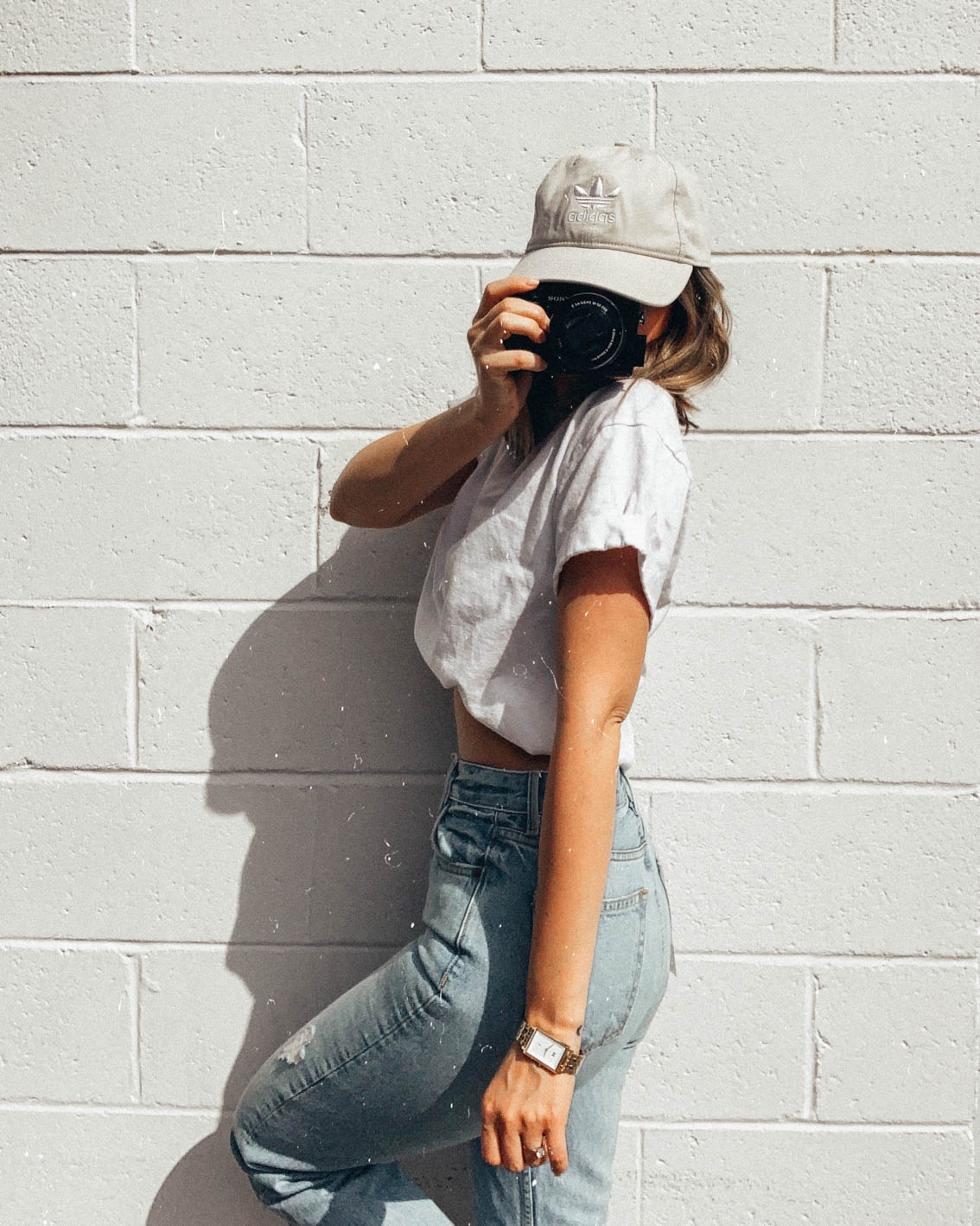 I just had a realization recently that this May will be SIX YEARS since I've started blogging. Which is absolutely insane and makes me feel really old to be honest! I feel like I was just a baby new-grad out of college looking for something to do. And now here we are! Crazy.
I digress, though. I know I've definitely talked about some of my most-used blogging equipment in the past but I thought it would be helpful to round up a master list so it can live on here forever.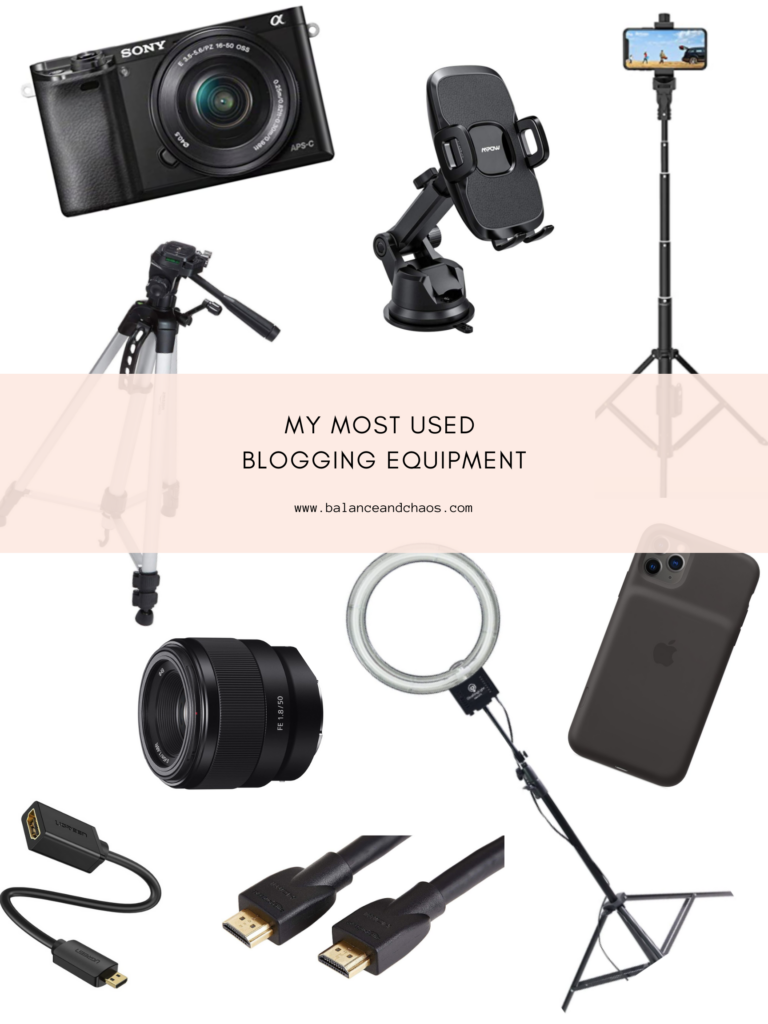 SONY ALPHA A6000 MIRRORLESS CAMERA – the first "real camera" I ever purchased was a DLSR but I found it to be a bit bulky and I didn't really utilize it's full capabilities. I ended up selling that, got a Sony a5000, then moved to the mirrorless a6000. You can do a lot with it if you know how to use it, it's lightweight, and the lens is interchangeable. I love the fact that I can connect my phone to this camera and use it as my remote when taking photos too. You just have to download the camera's app, connect to it, and it'll allow you to even see the photo that's about to be taken before you take it. You can also transfer photos from the camera straight to your phone in seconds. The a6000 is honestly perfect for me and what I need it for. Keep in mind, lighting is crucial. You can't just expect perfect photos if you don't have decent lighting or know how to mess with settings. Keep reading to see what I use in case it's gloomy outside and I'm trying to take indoor photos.
SONY 50mm F1.8 LENS – my Sony a6000 came with a lens but I knew I wanted the 50mm F1.8 so that I could get that blurred background effect (I think this is called bokeh). This is a fixed lens meaning you can't zoom in or out which sometimes forces me to crop tight but I love it.
SOFTBOX LIGHTING SET – these are definitely bulky and take up space but if you have room for them and take a lot of indoor photos, they are worth every penny. I actually have a set of four but I really only ever use two at a time.
IPHONE CHARGING CASE – this is a more recent purchase and it has been totally game-changing. Obviously with what I do, I'm on my phone a lot. So when it dies, it can be inconvenient if I'm in the middle of filming something, etc. I have the black case but I believe it comes in a pink and white.
TRIPOD & SELFIE STICK WITH WIRELESS REMOTE (FOR PHONE ONLY) – I got this compact and lightweight tripod for mine and Josh's trip that we had to cancel due to the coronavirus. This is ONLY for a phone. It comes with a wireless remote which is helpful for certain situations. This one is adjustable and can go as high as 52″ (not as tall as my other one though so that's something to consider).
SUCTION CUP PHONE MOUNT – I use this so so frequently and am going to buy a second one to keep in the car after I'm done writing this! I suction it on the mirror in the bathroom to film tutorials, in the car on my windshield, on my windows for pics/videos, and on my cabinets in the kitchen for cooking content.
RING LIGHT WITH STAND – I use my soft boxes more often than my ring light to be honest but this is something that I've added to my collection during my blogging journey. If you prefer something a little smaller than softbox lighting and don't plan to take photos for anything other than tutorials and close up photos, then this is a great option! For example, I use my softboxes a lot for recipes and posing around the house, but I would use the ring light for makeup tutorials and things like that when needed.
TRIPOD FOR CAMERA (ATTACHMENT FOR PHONE BELOW) – Okay so this 60″ tripod allows you to hook your actual camera into it but you can ALSO pop on an adapter so that it can be used for both camera AND smartphone. I had this one before the one I listed above and it's held up great over the years. The only reason I got the other tripod is because I was looking for something super lightweight for travel. Both of the tripods I have listed in this post are great but I would recommend this one if you have plans to use camera AND iPhone.
SMARTPHONE TRIPOD ADAPTER (FOR ABOVE TRIPOD) – this adapter allows you to use your smartphone on the tripod above.
MICRO HDMI TO HDMI ADAPTER – I like to live preview my videos when I'm filming on my Sony a6000 so in order to do that, you need this adapter and an HDMI cord (below) to plug into the TV.
HDMI CABLE – This is the cord that you'll plug into the adapter above and the other side into the TV.