You guys asked for it so I delivered! Here is my 2020 Local Pittsburgh Gift Guide with REAL gifts, not just a list of places to shop!
I'm sure I missed some amazing locally owned stores so I apologize in advance for that! Here's what I came up with after browsing some of my favorite spots in and around town (all reasonably priced!):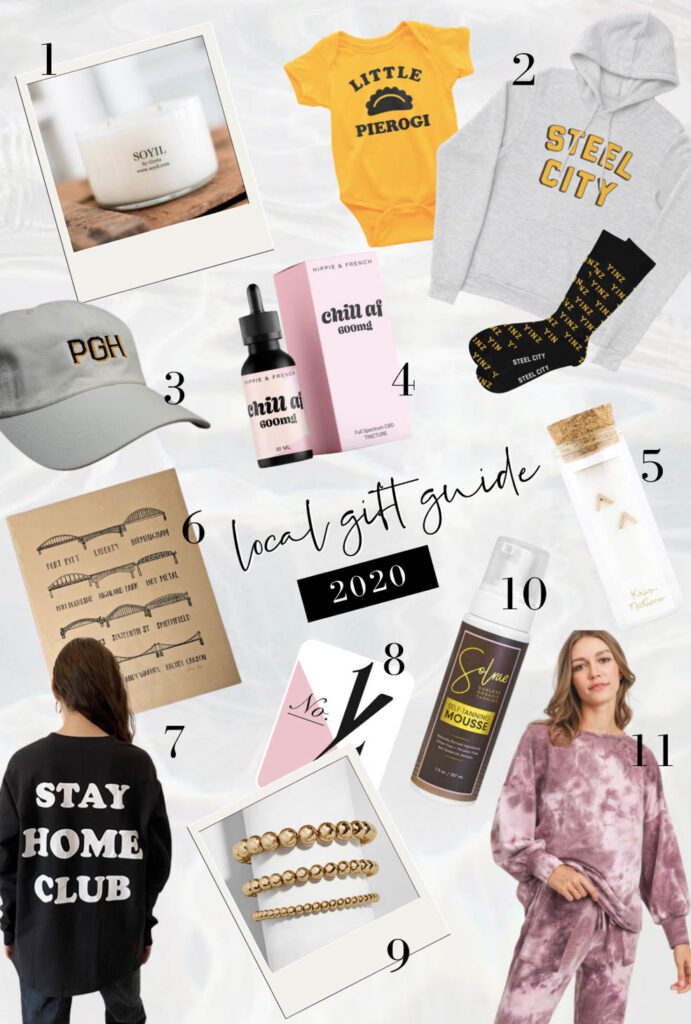 [ 1 ] Soyil Candles – Greta has some of the most amazing candle scents and I know how much love goes into each pour! I especially love the Almond Cake scent. You can find these at other boutiques in and around the Pittsburgh area.
[ 2 ] Steel City Gear – for the Yinzer or Pittsburgh sports lover in your life. They have everything from socks to matching sweatsuits to kids clothing! If you haven't heard of them, you've gotta check them out!
[ 3 ] Three Rivers Clothing PGH Dad Hat – I specifically have this hat in white and love wearing it in the spring and summer! As seen on me here!
[ 4 ] Hippie & French CBD – I have this CBD brand personally… and can we talk about how cute the branding/packaging is?! She's got all kinds of other CBD-infused products as well!
[ 5 ] Kristi Boutique Chevron Studs – Kristi's shop in Aspinwall is adorable but be sure to check out her online options if you're wanting to shop locally from home. I think these earrings would be the perfect gift for any gal. Mix and matching studs is very popular right now!
[ 6 ] love, Pittsburgh Shop Bridges Art – Another store to check out for all things Pittsburgh! They've got everything from coasters to ornaments to artwork and cards! Seriously, don't miss out!
[ 7 ] Seven13 Stay Home Club Pullover – This could not be more fitting for 2020! Seven13 is a new online shop created by a local boss babe with lots of trendy options! I have a few pieces myself!
[ 8 ] No. 14 Boutique Gift Card – Of course you could get gift cards to ANY of these shops in this post but No. 14 is a great idea for any fashionista in your life!
[ 9 ] No. 14 Set of 3 Bracelets – If you're less into the whole gift card thing and would rather give a present, I love these bracelets!
[ 10 ] Solrae Sunless Tanning Mousse – I have and love this self-tanner! It gives me the perfect bronze color during this gloomy time of year!
[ 11 ] Vintage Grace Boutique Tie Dye Set – You can shop the top here and the joggers here! Loungewear is obviously where it's at this year… and this set is so cute, cozy, and fun!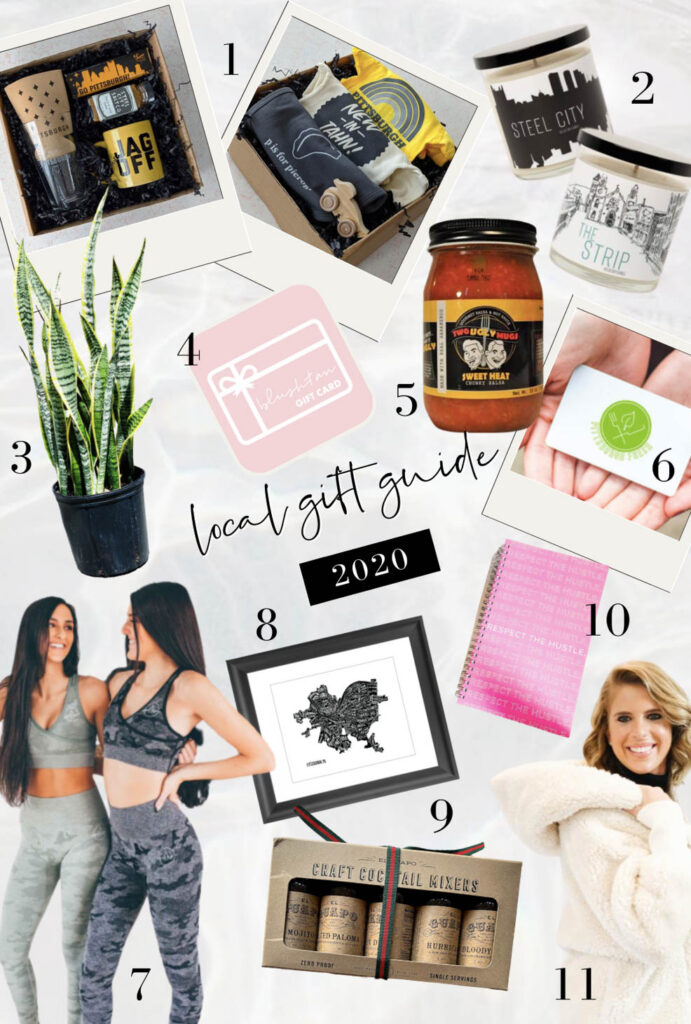 [ 1 ] love, Pittsburgh Shop Gift Boxes – Like I said for #6, this shop is adorable for the Pittsburgh people in your life. Or even a visitor that would appreciate a little souvenir! Their curated boxes are a must-check out for holiday gifts!
[ 2 ] Pittsburgh Candle Works – I worked with this locally owned business sometime last year and love these Pittsburgh-themed candles!
[ 3 ] Synthesis Plants – Synthesis store front is so so cute! You also have the option for contactless curbside pick up! I love my snake plant like the one on my guide and think it would be a really unique gift idea – maybe for a new home owner!?
[ 4 ] blushtan Pittsburgh Gift Card – The best organic spray tanning in Pittsburgh! I haven't been there since they've renovated but it looks very cute and girly!
[ 5 ] Two Ugly Mugs Salsa – a delicious salsa company run by a family that I know personally! SOOO good, you've gotta try! Can purchase online or in select stores!
[ 6 ] Pgh Fresh Gift Card – Me and my sister love these prepared meals that can be delivered to your doorstep! The meals are unique, so fresh and homemade!
[ 7 ] Yoga Jean Set – For the yoga lover in your life! I personally have met PJ and I know she puts her heart and soul into the community and brand she has created!
[ 8 ] House 15143 Pittsburgh Neighborhoods Print – This shop is so charming and has some really amazing home decor items! You can browse their site to see what they have as well!
[ 9 ] House 15143 Cocktail Mixers – Perfect for the cocktail enthusiast!
[ 10 ] Beyond Boss Journal – Beyond Boss is an organization that inspires women through events, branding, photography, and online learning! If you're looking for some fun and girly items like journals, candles, and sweatshirts, definitely check out Beyond Boss!
[ 11 ] Straight Line Boutique Sherpa Jacket – The sherpa trend lives on and this hooded coat is sooo cozy, cute!
BE SURE TO CHECK OUT MY OTHER GIFT GUIDES HERE!