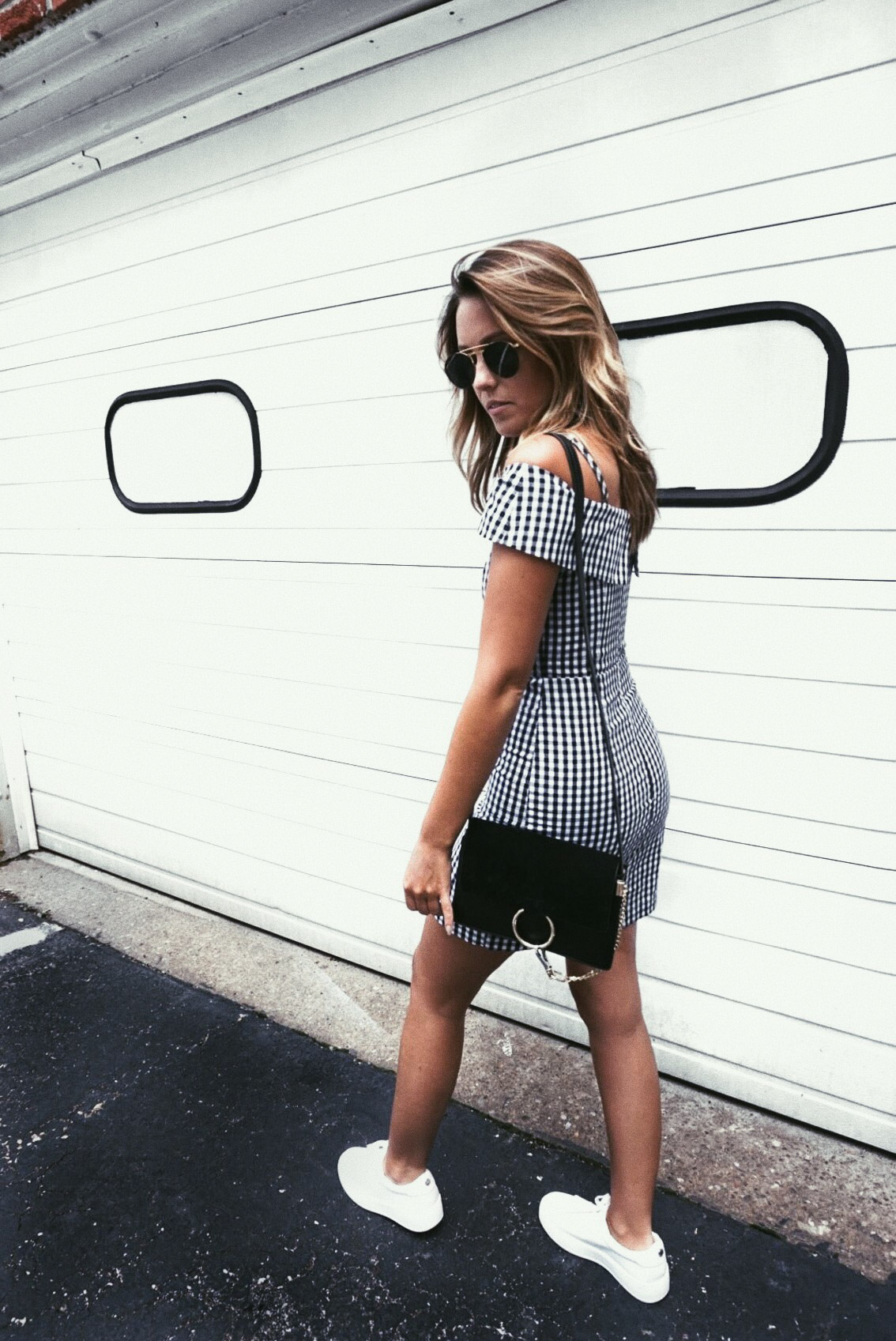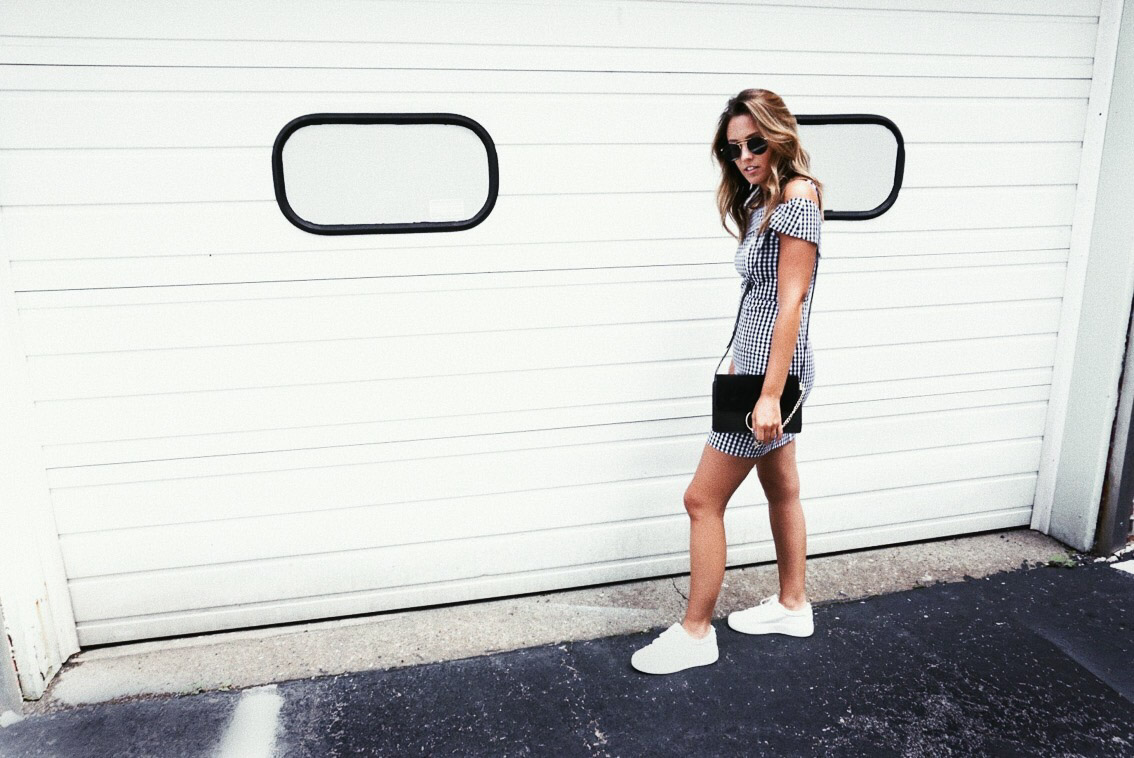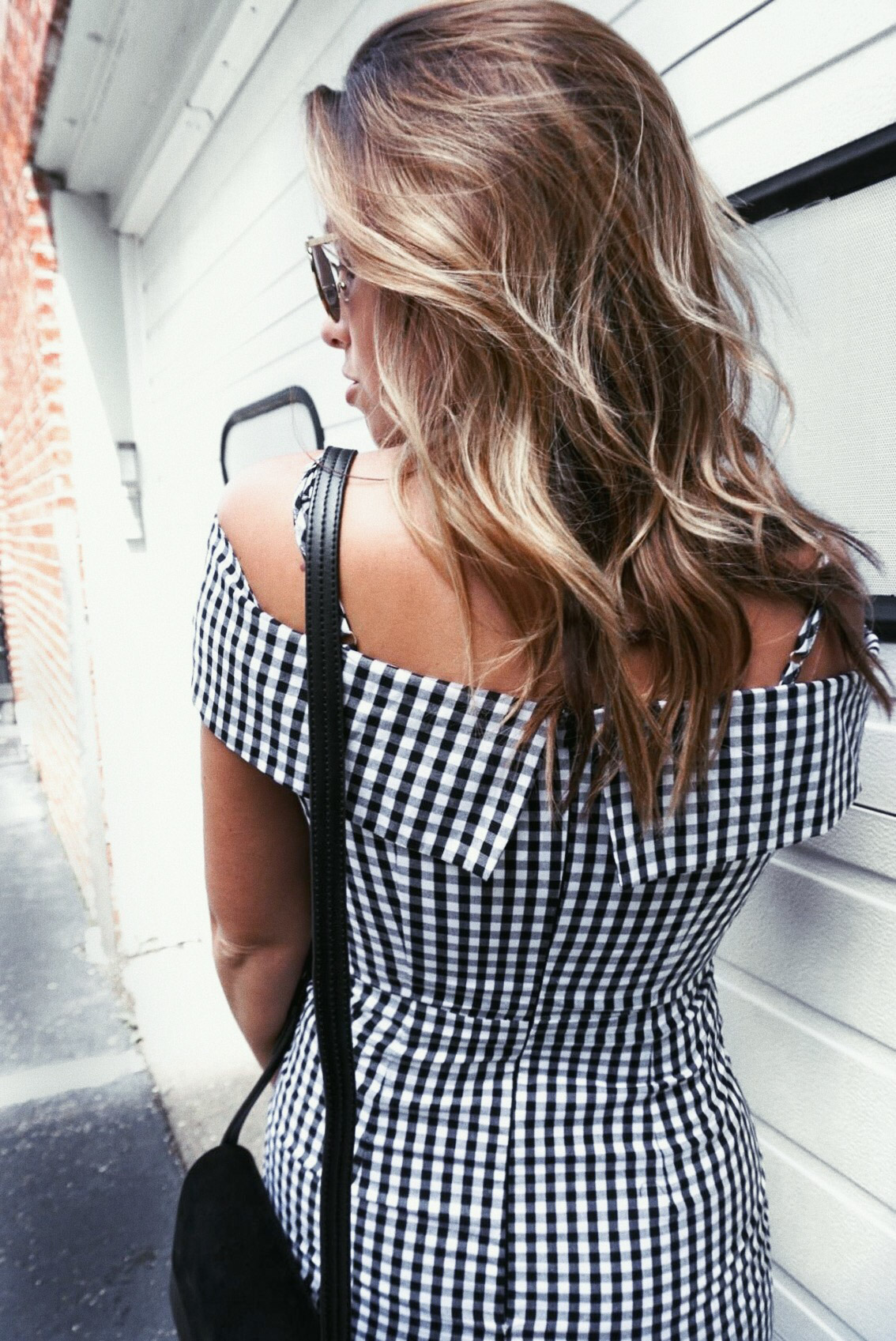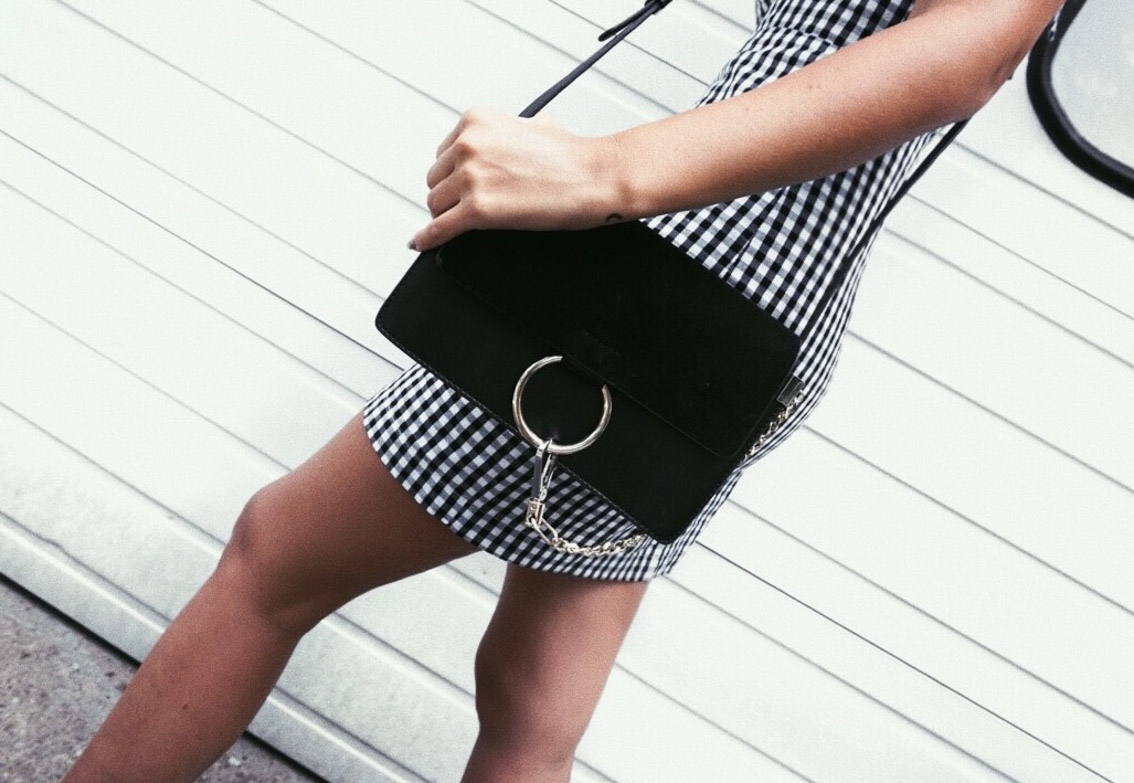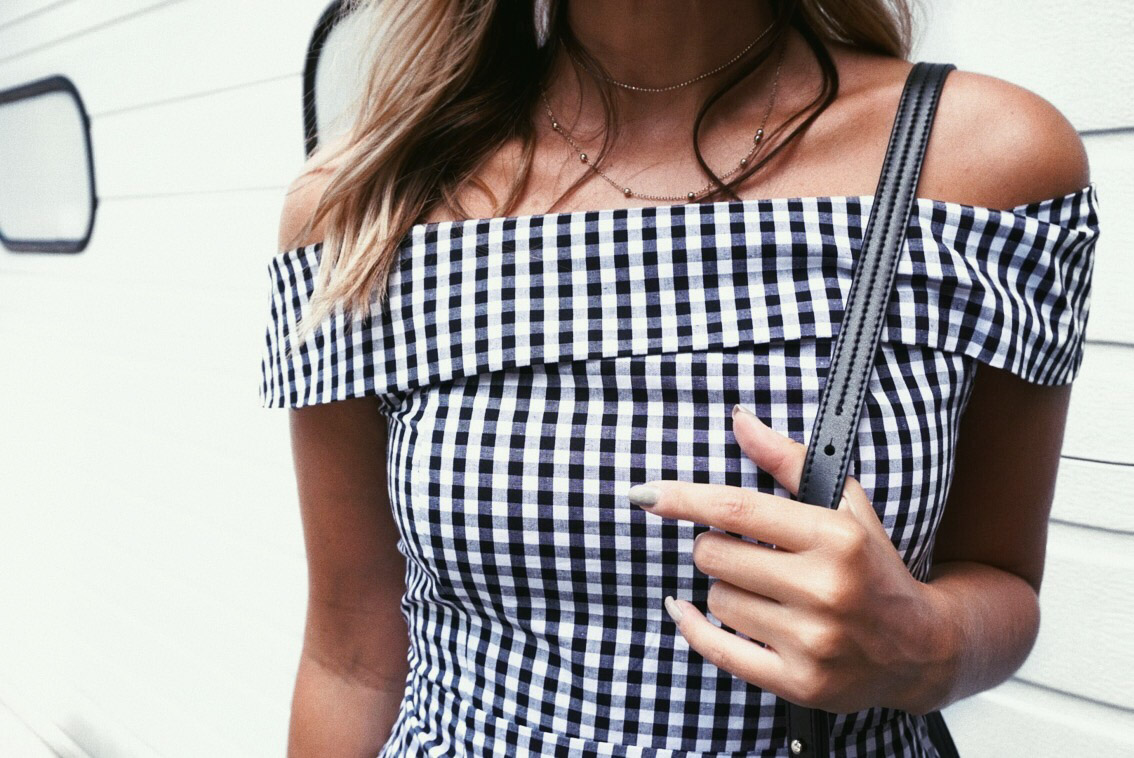 GINGHAM OFF THE SHOULDER DRESS | CLOSET ACCESS CROSS BODY | WHITE SNEAKERS | 90S ROUND GLASSES
Hey guys! Does anyone know where July went?! I feel like it was just a minute ago that I was sitting on my butt drinking mojitos in Paradise. CRAZY.
But anyway, I'm here today to talk about BLOGGING. I get emails quite frequently asking me how/why I got started so I thought it'd be helpful to curate a little list of tips and tricks that I've learned along the way. While I'm still learning the game myself, I think I've got some good starter advice for anyone who is thinking of heading down this path.
+ First things first, think long and hard about what you want to name your blog. This is so important. Think of it as a first impression. Does this name represent you and your brand? Do you want your your blog name to be long and wordy or do you prefer it to be short and simple? Does it sound neutral, edgy or feminine? What will people envision or expect to find when they read your blog name? For example, if you want to start a fashion blog but plan to incorporate recipe posts, then maybe you shouldn't include any fashion specific wordage.  This is definitely something that I wish I would have put more thought into when I first started blogging. I remember sitting down with my sister and just picking a random, catchy name. Or so I THOUGHT it was catchy at the time. The Domestic Diva Diaries was my first born blog name. I kept the name for about a year until I realized that it totally did NOT represent me or the direction of my brand. Re-branding after a whole year of creating an image under a different name wasn't easy but I'm so glad that I did. Side note: some of my friends still call me "The DDD". LOL!!
+ Find your voice. Will you be funny or serious? Informative or to the point? Will you use hashtags and emojis? Be consistent with how you voice yourself on your blog and social platforms. This is a way for your readers to get to know you and your personality. Most importantly, be YOU!
+ Be consistent. This is to be said for mostly every aspect of blogging. But what I'm referring to here is to post content consistently. I must admit, this is so much easier said than done. A lot of aspiring bloggers don't realize how much time and effort is put into keeping up with a blog and it's social platforms so BEWARE! But think about your posting schedule before you start. Will you post twice a week? Once a week? Whatever it is that you choose, stick with it! You want your readers to catch on to when they can expect new content. You can't drop off for a few weeks then toss up a post and expect people to read it. Unfortunately, it doesn't work like that and your analytics will prove that to you.
+ Tighten up on your photography skills. People want to see aesthetically appealing images so learn as much as you can. Take a class if need be. Pinterest has awesome articles that you can use to try to teach yourself. Invest in good lighting as well as a good camera if funds allow. I use these soft boxes, this camera, and this tripod. With the right lighting and filter, iPhone pictures don't come out so bad either so all of the fancy stuff is not always necessary to become successful. I still have so much I want to learn when it comes to photography so I can't offer much advice but I can tell you that your photos are KEY!
+ Plan, plan, plan!!! I must admit, I am the definition of the phrase 'procrastination at its finest'. Planning has never been my strongest suit and has caused me a lot of stress with juggling jobs and hitting deadlines. But I've gotten better! If you can plan ahead by making lists or dedicating certain days/times to doing X,Y, and Z then you will be way better off in the long run.
+ Make sure your blog posts are valuable to your readers. As much as you'd like to think your followers just want to see pictures of you in your latest #OOTD, they really don't. While it works for some, I think it makes the most sense to include something that is of value within each blog post for your readers. That could be advice, a recipe, a relatable story, a playlist, or something more informative. You don't want your readers to leave your site feeling like its all about you! Because how boring is that.
SHOP THE POST