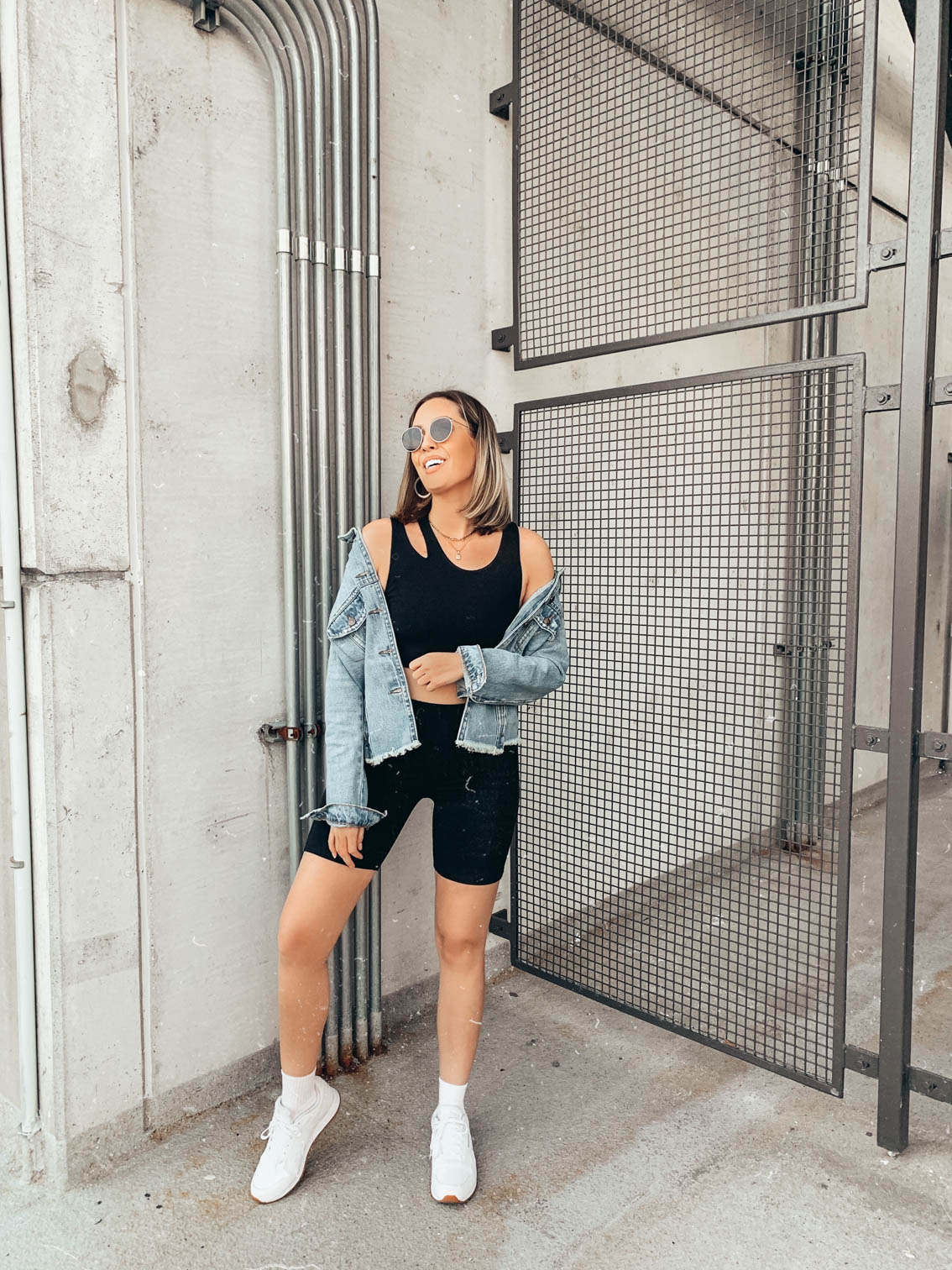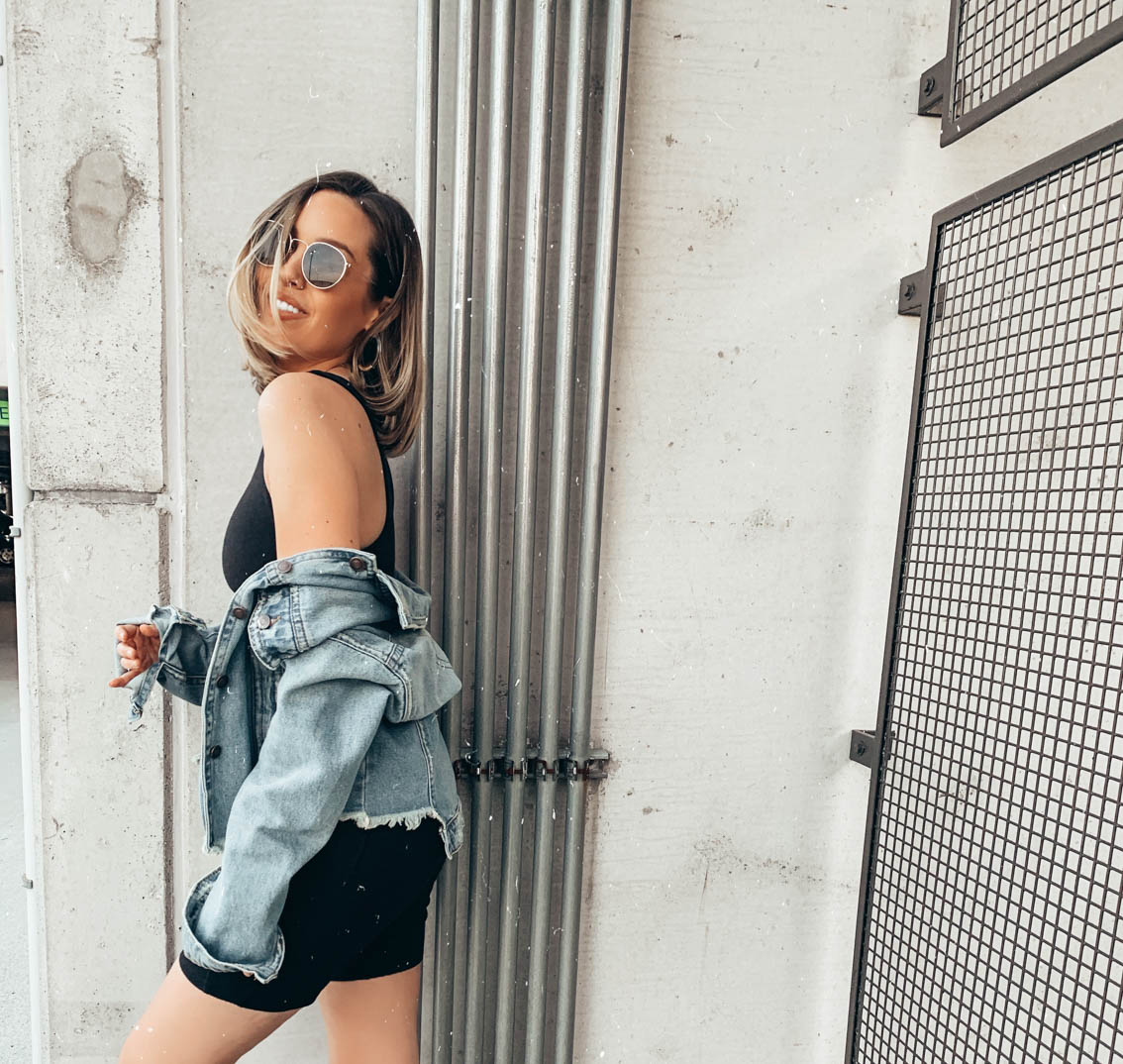 REEBOK CLASSIC HARMAN RUN SNEAKER | CREW SOCKS | ASYMMETRIC CUTOUT BRA (& SIMILAR OPTION 1 & 2 | MATCHING BIKER SHORTS | DENIM JACKET
Hey guys. Yesterday I blogged my top Netflix series, movies, and documentaries that I've watched. And today I'm following up with another highly requested topic that was asked of me to touch on during this time…
And that is AT-HOME WORKOUTS!
I'm definitely your girl for this because I ditched my gym membership quite some time ago and have been strictly working out at home even prior to the coronavirus.
These days I pretty much only use Sydney Cummings' workouts and challenges on YouTube. But I have definitely dabbled with some other options before finding someone that I really like. She's just the right amount of motivating without being annoying. You know?
I'll go ahead and link a bunch of workouts that I love but don't forget to check out Sydney's full YouTube account because she uploads a new video every single day and that's just too many to list here. I've done so many of them and truly enjoy the variety and the way she sets up her circuits and exercises.
So without further ado…
10 Minute Booty Burn – Pamela Reif
10 Minute Ab Workout – Pamela Reif
10 Minute Sixpack Workout – Pamela Reif
10 Minute HIIT Cardio Workout – Sydney Cummings
30 Minute Tabata – Popsugar
Low Impact 30 Minute Cardio – Body Project
30 Minute Fat-Burning Cardio – Sydney Cummings
25 Minute Tabata Challenge – Body Project
40-Minute No-Equipment Cardio and Sculpting Workout – Popsugar
30 Minute Low Impact Workout – Popsugar
30 Minute Cardio Tabata Style – Sydney Cummings
40 Minute HIIT Full Body Strength & Conditioning – Sydney Cummings
Full Body Fat Burning HIIT Workout – Heather Robertson
30 Minute Cardio Sweat – Sydney Cummings
Crazy Full Body HIIT – Heather Robertson
30 Minute Cardio Kickboxing – Sydney Cummings
30 Minute Core and Conditioning – Sydney Cummings
50 Minute Full Body Strong – Sydney Cummings
Butt Lift & Thigh Sculpting Pilates – Bailey Brown
45 Minute Butt Builder Workout – Sydney Cummings
40 Minute Leg Burner – Sydney Cummings
45 Minute Abs & Glutes – Sydney Cummings
30 Minute HIIT Upper Body and Cardio Circuit – Sydney Cummings
40 Minute Upper Body HIIT – Sydney Cummings