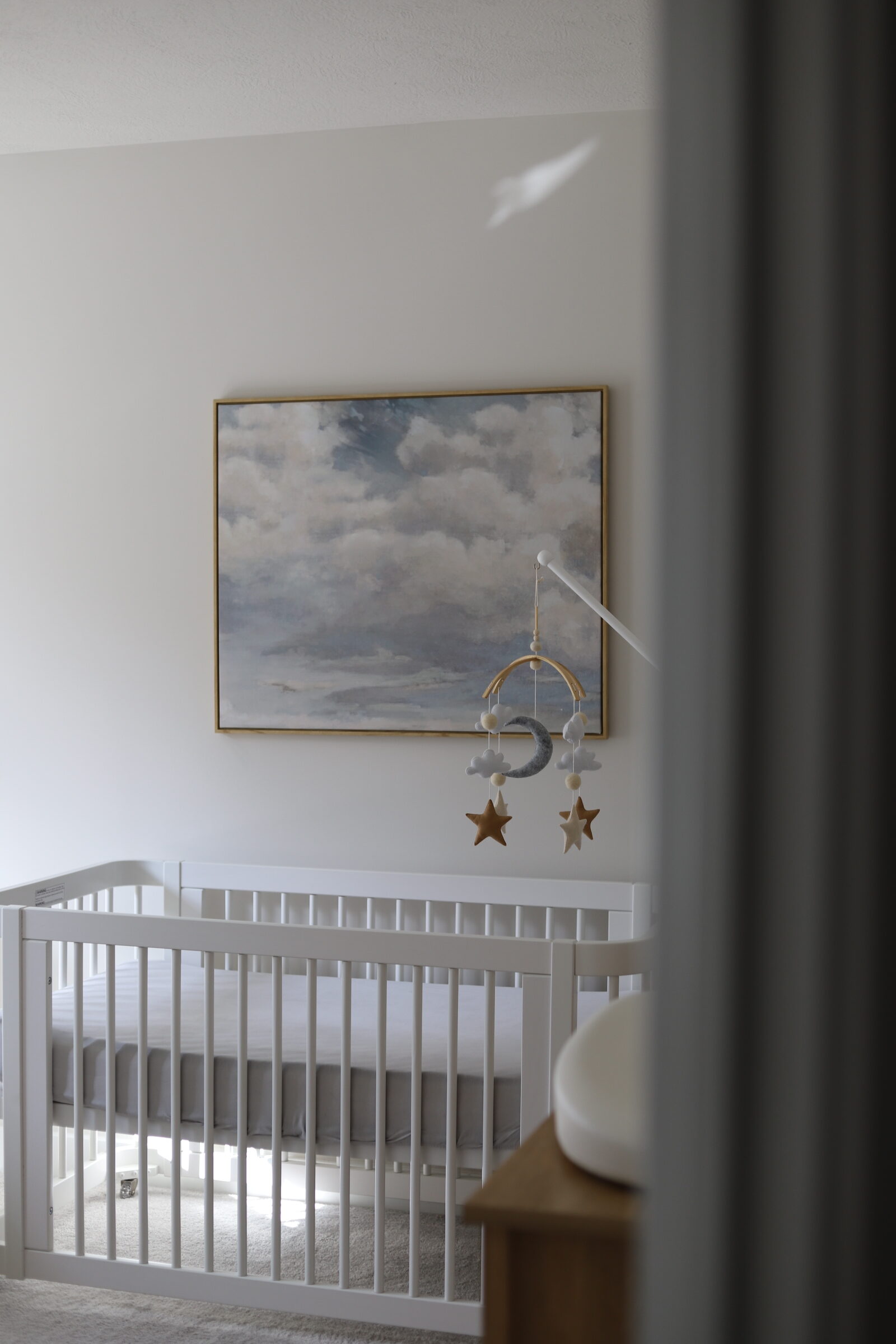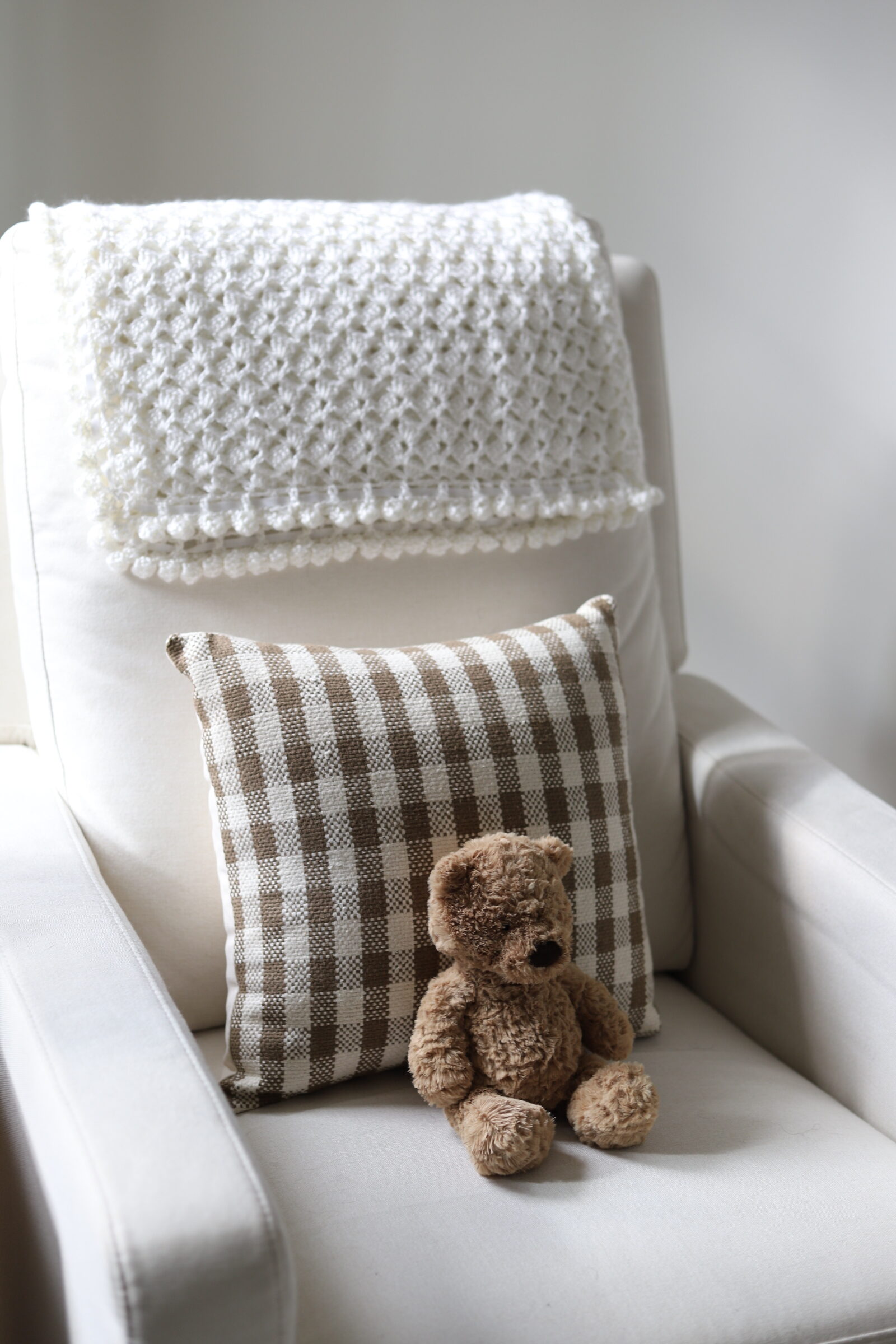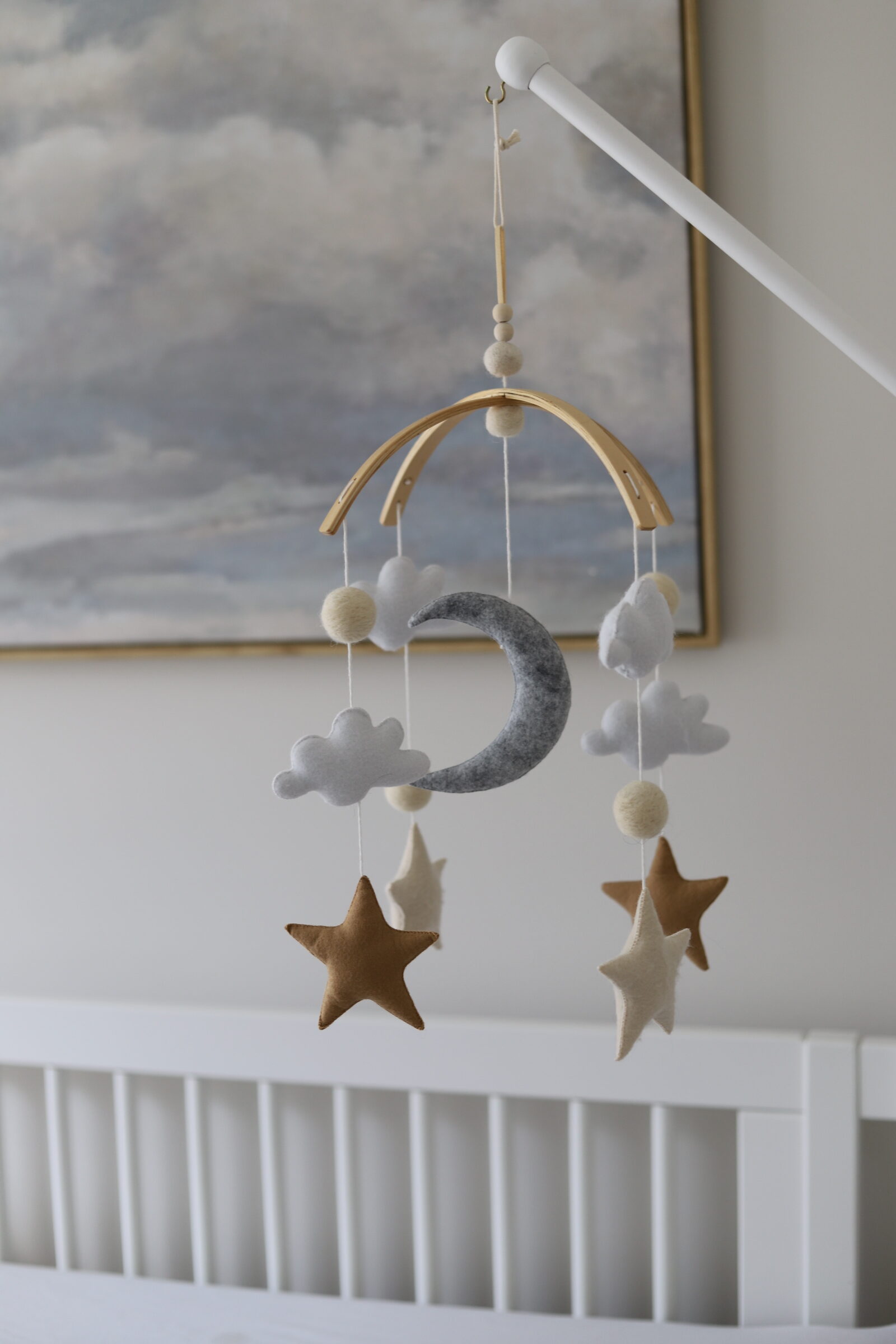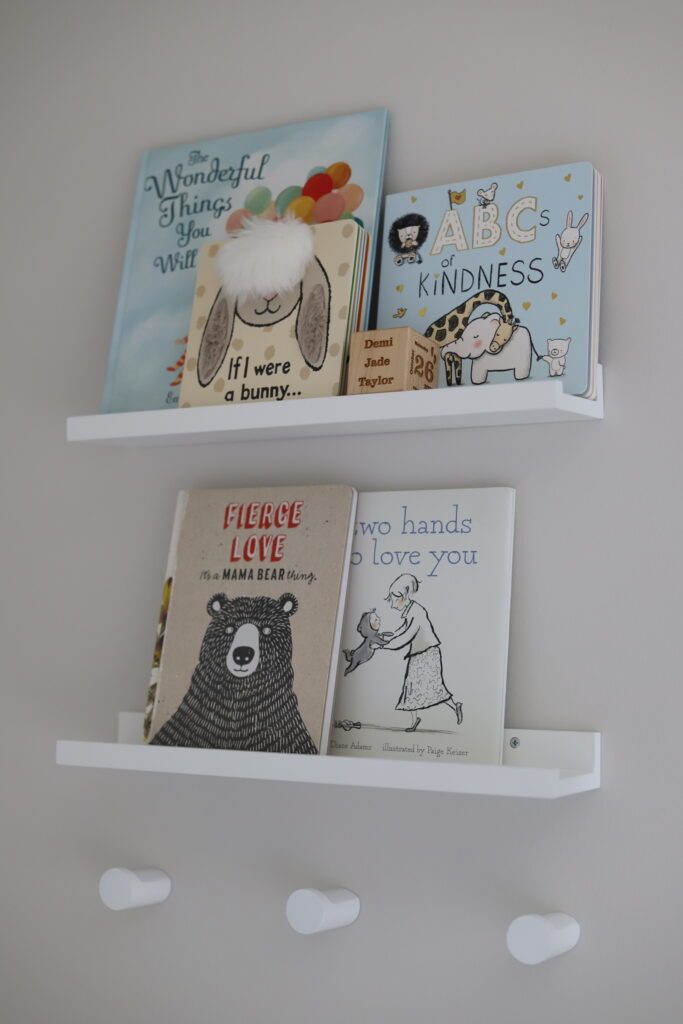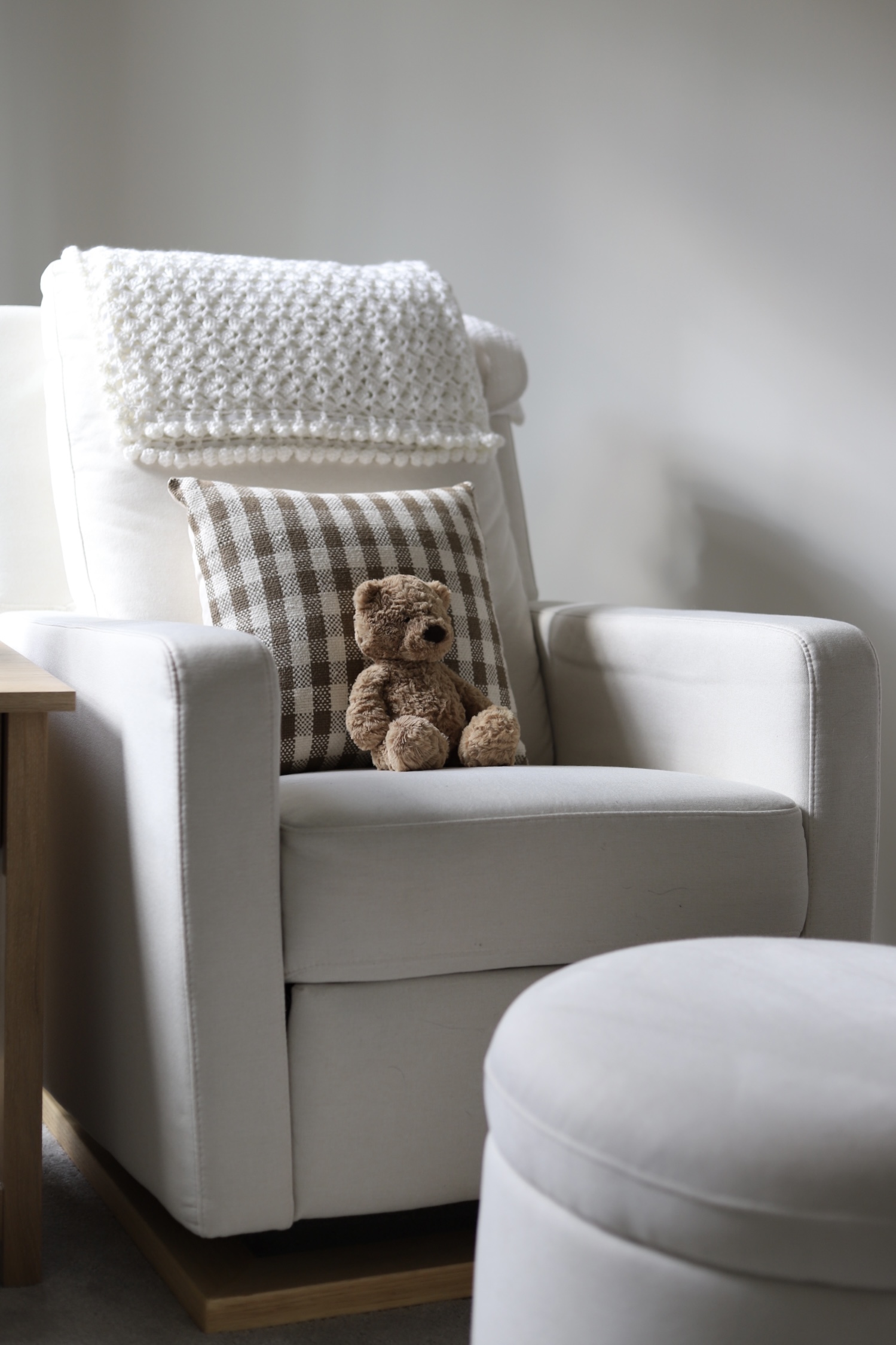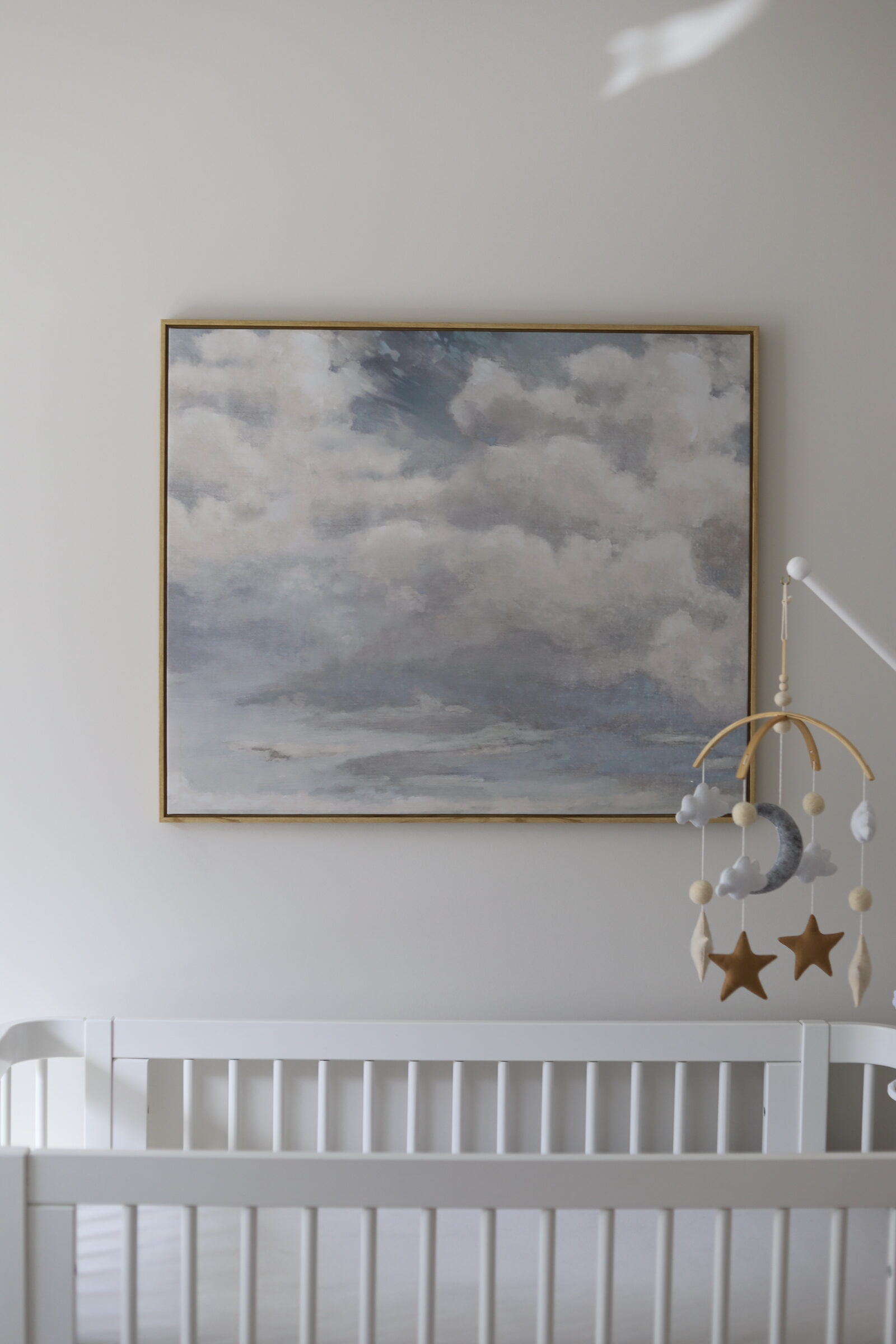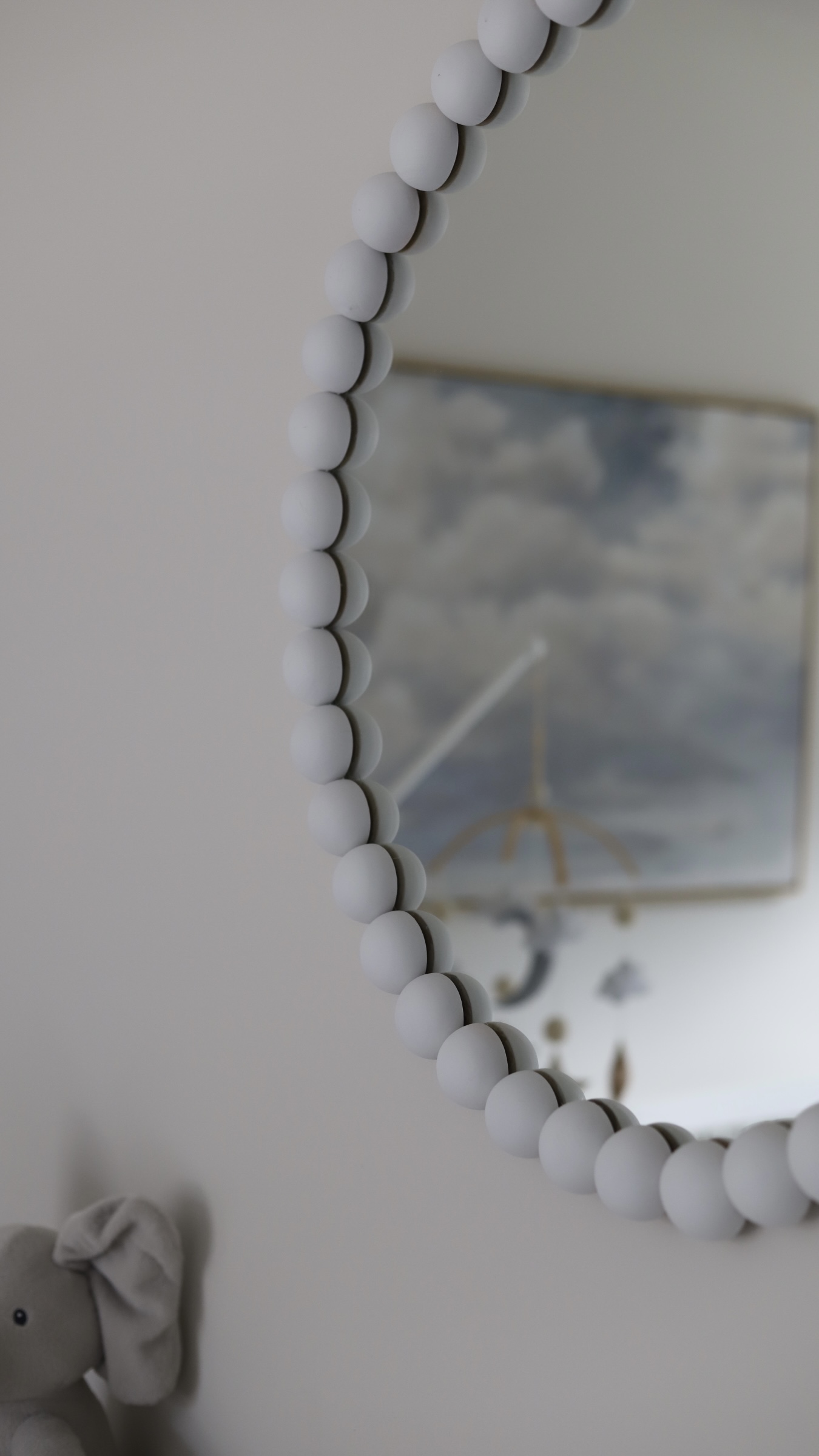 We stuck with a pretty neutral nursery theme but the subtle pop of color in the clouds painting brings the room to life! When I saw that piece on Target's website, I knew I needed to have it. Unfortunately it sells out quickly so I patiently waited for a restock and bought it ASAP as soon as I got the alert. I also decided to DIY the cloud ball mirror since the Pottery Barn one was a bit pricey. I love that it has more meaning now and I can tell Demi I made her nursery mirror myself!
I really just love how this sweet little cozy space turned out that will hold so many memories for years to come!
Linking up everything in the room below:
Nestig The Wave Crib – This converts from a mini crib, to standard crib, to toddler bed. It a comes in white and a pretty light wood color.
Nestig Sheet Set – These sheets are our favorite! They are so soft! This sounds crazy but they're not as cool as some of Demi's other sheets so when we set her down, she doesn't startle or wake during the transfer! IMPORTANT, lol.
Nestig Starlight Mobile – I get so many questions about where we got Demi's mobile. They have a bunch of really precious, unique mobiles.
Nestig Mobile Attachment Arm – The mobile doesn't come with an arm so you have to get this attachment. It comes in different colors to match the Nestig cribs.
Avocado Crib Mattress – We have an ongoing joke about how Demi's mattress is better than ours. Truly though… it is. I love the brand Avocado for several different reasons. This was pricey but worth it for the quality and safety. It has a dual-sided design (one for infants and one for toddlers) that offers different firmness levels to support growth for years.
Babyletto Sigi Recliner – Absolutely love our electronic recliner/glider. The material has held up great so far, cleans easily if need be, and we love having a USB port.
Babyletto Naka Storage Ottoman – I'm all about closed storage wherever I can get it so I love that this is both stylish and functional.
Dresser – This dresser is from Walmart and I just love the color. We were super impressed with the quality for the price. It's actually very heavy materials and were pretty shocked when it was delivered. We changed out the black drawer pulls and went with a satin nickel to keep the room feeling soft and feminine.
Nightstand – This nightstand is from the same collection as the dresser. I like the size of it too. We need space next to the recliner for feeds, a lamp, the Hatch, burp cloths, etc. So anything too small just wouldn't be functional. I also like that it is has a drawer to stash extras of anything we grab for on the regular.
Satin Nickel Pulls – These are the pulls we used on the drawers and nightstand.
Hatch Sound Machine – We love our Hatch! A must-have.
Hatch Grow Smart Changing Pad & Scale – I registered for the Keekaroo but it never came back in stock so I went with the Hatch. 8 months in and we have been satisfied with our purchase thus far despite some of the negative reviews I read. We have had no issues and the scale has always been pretty accurate for us. I don't use a liner or anything during diaper changes because the silicone is great to just wipe off if any mess gets on it. It's nice having a scale although it's really not necessary. And I really like the app that you use with it to track feeds/sleep/etc.
Clouds Framed Canvas Painting – This framed art is so beautiful! It would honestly be great for any room in a house but I love it in Demi's nursery.
Floating Shelves – Demi has a bazillion books so we'll need another book shelf on the ground but this is great to display a few books, some decor, etc.
White Wall Hooks – I found these on Amazon and thought these were the perfect addition for under the shelf.
Personalized Wood Baby Block – This was gifted to us when Demi was born and I think it is adorable! A great go-to gift idea for friends and family who have new babies.
Curtains – I guess I forgot to capture pictures of the curtains in Demi's room! Oops. But these are the exact ones we have. We ended up needing to get a blackout liner to darken the room more but I like the texture and subtle print that these have.
Curtain Road – Matched the drawer pulls and the curtain rods.
Brown Gingham Pillow – I found this on Etsy and used the pillow insert below.
Throw Pillow Insert – An amazon find!
Cloud Ball Mirror DIY Tutorial Here – (supplies needed: frameless mirror, split wooden balls, white spray paint, glue)
Infant Optics Video Monitor – A friend recommended this monitor and we love it! I personally think Wi-Fi monitors (or really any of the baby gadgets out there that require Wi-Fi or apps) can be a little annoying because of glitches, connection problems, etc. I know some of the bougie Wi-Fi monitors on the market can monitor heart rate, baby's breathing, and more but I did not want to become obsessed with all that and felt comfortable just keeping it basic with this baby item. The screen is large and clear and we have had no issues with it so far! It does it's job!