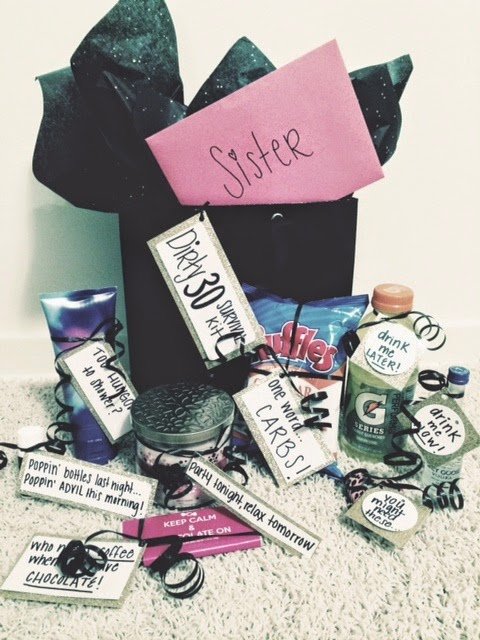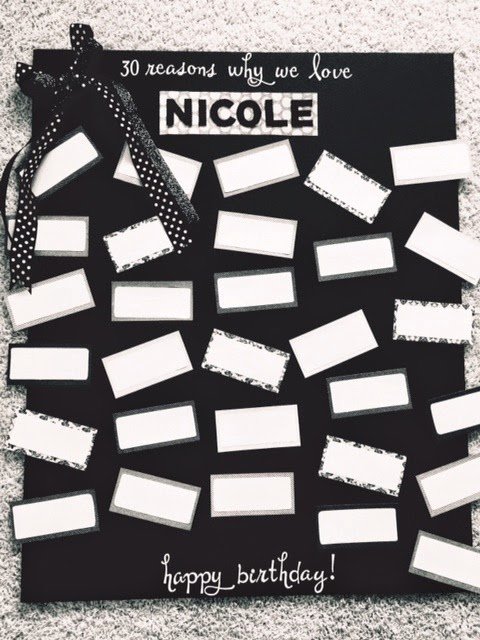 What better way to celebrate a friend or family's 30th birthday than with a Dirty 30 Survival Kit for the night of/morning after. Believe me, they will thank you!  I was trying to think of a special gift for my sister back in January and remembered seeing these types of "survival kits" for 21sts and bachelorette parties. I decided to make my own little rendition of one. Each "item" in the bag had a witty slogan/quote to accompany it. I hand-wrote on white card stock paper & backed it with gold glitter scrap book paper from Patcatans (craft store).
Items + Phrases in the kit:
Mini Grey Goose– "Drink me now"
Gatorade– "Drink me later"
Chips– "One word… Carbs"
Mints (Victoria's Secret)- "You might need these"
Candle (Bath&BodyWorks)- "Party tonight, relax tomorrow"
Keep Calm Chocolate On candy bar (Hallmark)- "Who needs coffee when you can have chocolate"
Mini Advil– "Poppin' bottles last night, poppin' Advil this morning"
Lotion (Bath&BodyWorks)- "Too hungover to shower?"
Idea #2: The second picture above is a 
poster board 
I put out at the bar we rented for my sister's surprise 30th. I had everyone fill out decorative cards with reasons why they loved her. It served as a decoration and an even better memory for my sister. The poster board I used was fairly large but you can decide on the size. Again, I used white card stock and backed it with glittery scrapbook paper for an extra touch. I bought felt & foam sticky-backed letters (found in the scrap book section of the craft store) for the words at the top/bottom to keep it neat. The bow was made with black sparkle ribbon, polka dot ribbon, & simply glued on to the poster.
These 2 projects did take some time but if you like crafts, you'll have fun making them!