HEARTLOOM ROMPER | WHITE CROSSBODY | OVERSIZED AVIATORS | WHITE SNEAKERS
Every job has it's pros and cons, am I right? …things you like doing, things you can tolerate doing, and things you would rather do anything else but that thing. As fun and incredible as blogging really is, the same goes for it too. There are many aspects that I love but there are definitely a handful that I dread.
For example, I absolutely LOVE creating content, connecting and chatting with you guys, staging flat-lays, editing pictures for Instagram, styling an outfit, spilling my thoughts on here and SO much more.
If you want to know what I think the worst part about being a blogger is, keep on reading! It's not ALL rainbows and butterflies. I swear you guys!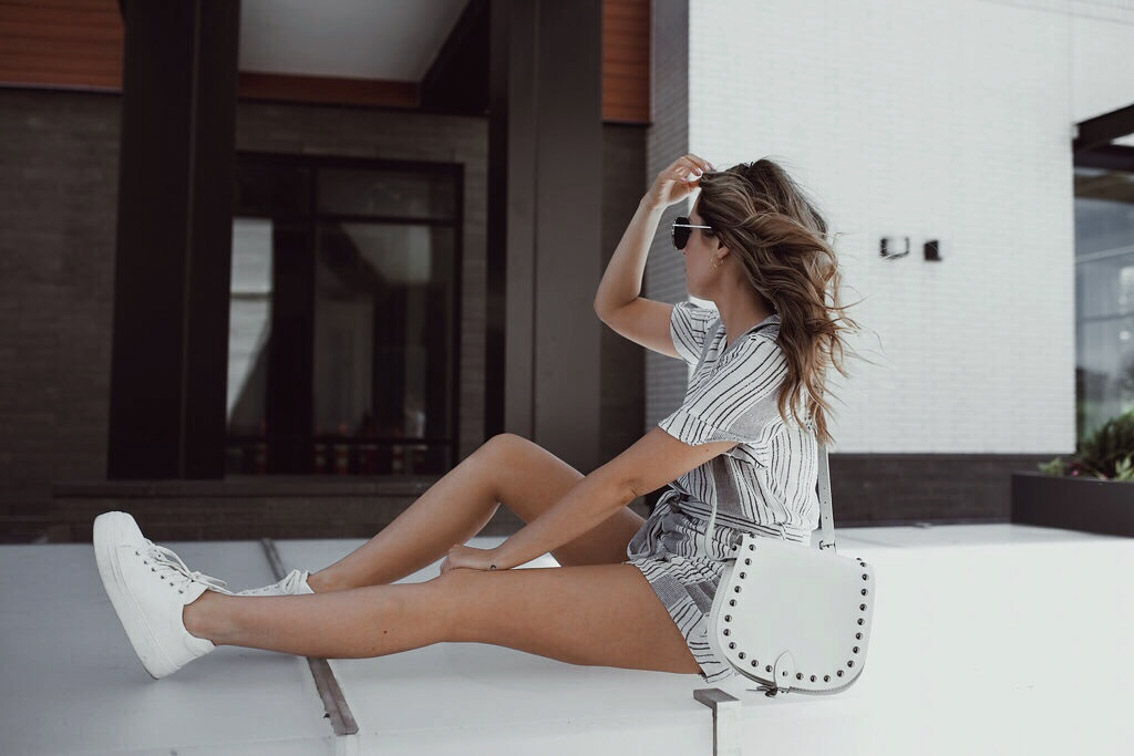 MANAGING MY FINANCES – First and foremost, I absolutely hate keeping track of my expenses and income but it is so important for me to maintain organization or else I WILL become a basket-case. There have been instances when XXX brand was late and/or incorrect with payment amounts and it was helpful to have a quick place to reference instead of sorting through emails and re-reading an 8 page contract. A lot of campaigns have net-30, 45, or even 60 payment terms so it's easy to forget about what is owed to you unless you have it on your calendar. I use Quickbooks for creating invoices but I mainly use a self-made Google doc to track my expenses and income. Must I mention I am the WORST about saving receipts. This makes tax-season much harder than it needs to be.
APPLYING TO CAMPAIGNS – To be honest, I don't necessarily enjoy applying to sponsored campaigns through marketing agency platforms. Without seeing the creative brief, it's hard to really know what the brand is looking for. It's difficult to constantly come up with creative pitches for the "Sell Yourself" section.
THE SET UP AND CLEAN UP – You'd be surpised by the huge mess that I can make in just 5 minutes when I'm prepping to take photos inside on a dreary day. I dread dragging out my light boxes and all of the other stuff that goes into staging a perfectly lit photo. It's seriously a workout if you don't have a specific room or studio to keep them set up in!
ALWAYS BEING "ON" – Sometimes I don't feel like taking pictures or coming up with new engaging content. Sometimes I'm tired and my focus just isn't there to type up an interesting 300+ word blog post. Sometimes I don't want to put on makeup or get dressed up for a shoot. But if I want to stay relevant, I literally have to muster up the energy to make it work. This market is so saturated so falling behind isn't really an option!
TRANSFERRING & OPTIMIZING IMAGES – I don't mind editing photos for my website but I do hate the process of optimizing the images in Lightroom then transferring them from my desktop to my phone (or vice versa). These are the things that take up more time than you'd think but are necessary for SEO-purposes, etc.
SEEING PICTURES OF MYSELF – When I first started working with photographers, it was weird to see myself in so many pictures. For this reason, unfortunately I am probably more critical of myself than my non-blogger self was just 5 years ago. In the midst of those 6 good pictures, there are hundreds of pictures with bad angles and facial expressions that I didn't even realize I could make! I'm at the point where I usually just click past those without hesitation but there are still times where it's like "WOW, do I really look like that?" LOL!
pictures: Indie Danielle Photography