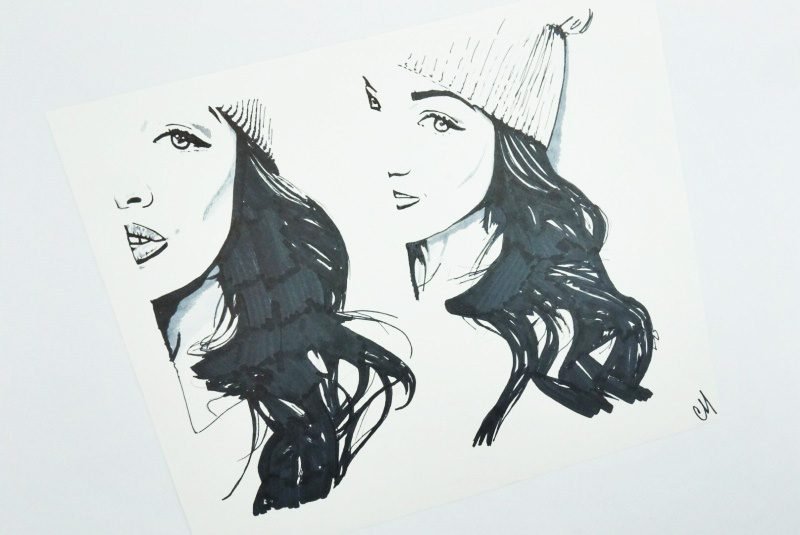 First things first, let me just say that I am so pumped to share this collab with freelance artist, Corie Mattie. I can't wait for you guys to learn more about her because she is cool as hell and mind-blowingly talented.
Plus we're hosting a giveaway so details on that can be found at the bottom of this post!
When Corie told me she wanted to create a sketch of me I was definitely a smidgennnn apprehensive but excited to see how it would turn out. I am most-def moderately obsessed and impressed with the end-product to say the least.
I mean, RIGHT?! (look how identical it is to my Instagram picture that she used)
So let's get to the good part. Meet the woman of the hour:
Name: Corie Matie
Location: I moved to Orlando from Washington, DC in August but I'm Jersey-made.
At what age did you start dabbling in drawing/sketching? I started drawing ever since I could remember. I took art lessons when I was six but I wanted to be able to do my own thing and draw my own way. I never really took drawing seriously until after college when I was broke and needed a little extra cash. I draw personalized pieces for people or they can buy pieces that I randomly draw. 
What inspires your artwork? Certain events that are happening in my life usually inspire my work. I like drawing things that will appeal to people in a unique way that really makes them think. Or pieces that can be interpreted differently based on one's perspective. Banksy is also a huge inspiration; the mystery artist defies everything society is — he or she is one of the few that can really challenge society and make people think about the life that they're living.
What types of pieces do you create? I create pieces that I randomly have the urge to draw but I also draw personalized pieces. I'm also big into animals. So every now and then I'll create a dope picture of a lion or tiger, etc. Others always try to get me to paint on canvas but I am super loyal to my sharpies haha. However, I actually make prints and post them on canvas and add words and spray paint to make creative, different pieces. Collaborating with artists and writers always peaks my interest too.
Where can we purchase your artwork? I post my work across multiple platforms. Instagram is where I am most active, but I also post information on Snapchat and Twitter. I just made an Etsy account recently (which can be found here).
What other projects are you working on? I recently started making nice prints of my originals — which allows me to sell them for cheaper and so multiple people can buy the same piece. I also just made tank tops of one of my pieces. It's basically a trial run to see if they sell. I might try out one or two more pieces on clothing to see how that plays out. I also started creating pieces for a Philadelphia clothing line called Aphillyated and I've had a few other offers. I'm always open to displaying my work on clothes.
Motto: You always have to remember, the earth without art is just 'eh'.
Follow Corie ::
+ Twitter
+ Etsy
**GIVEAWAY :: Corie is giving away a customized piece of her artwork to one lucky winner – head to this Instagram picture for direct details. Contest will be open until 6pm EST tomorrow (5/22/15). U.S. residents only**