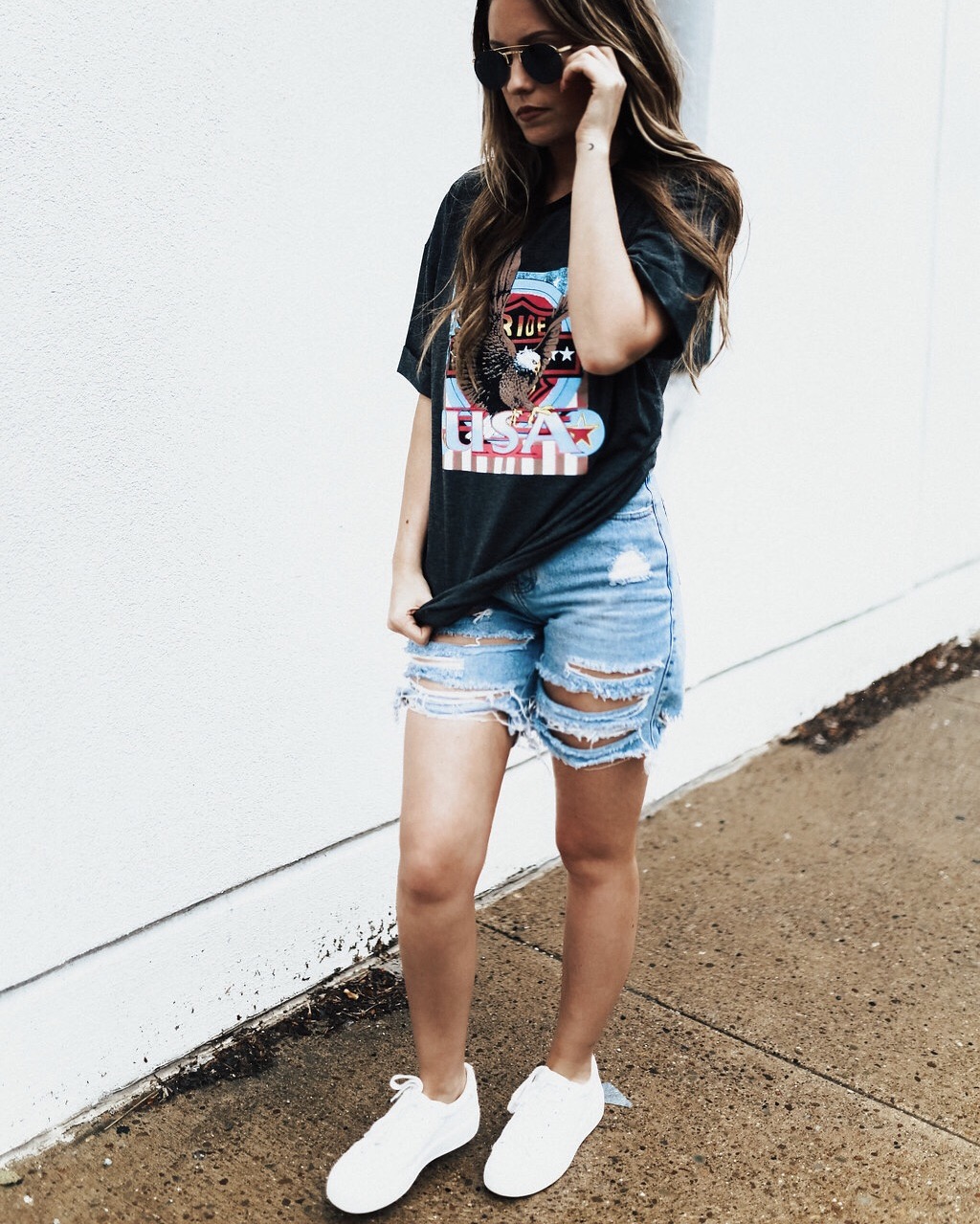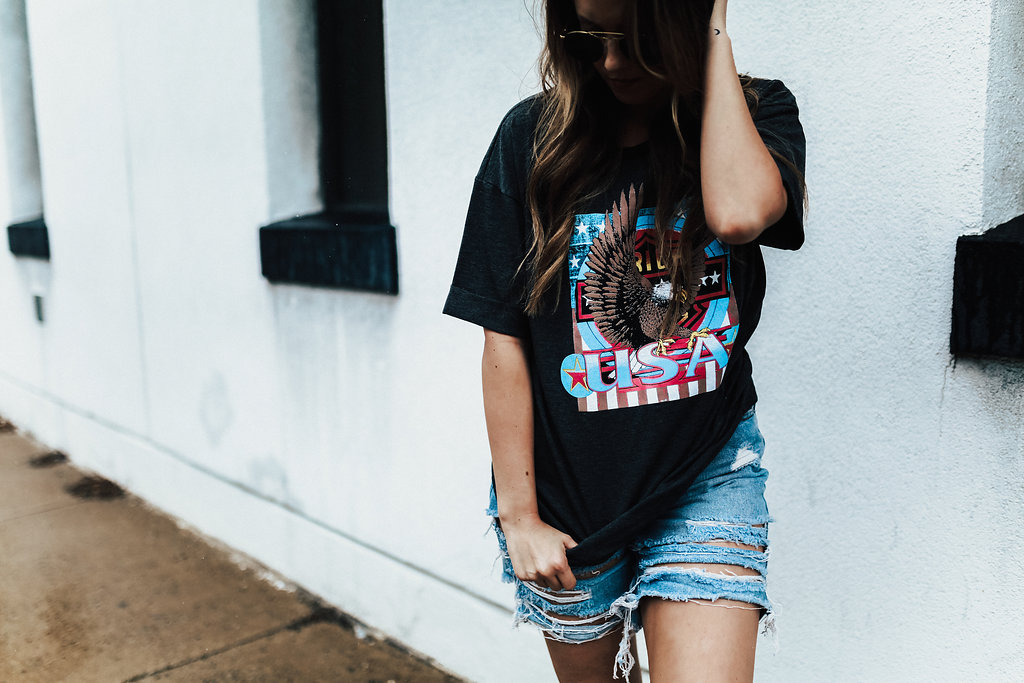 MISSGUIDED DENIM SHORTS | WHITE FLATFORM SNEAKERS | OVERSIZED GRAPHIC T-SHIRT DRESS | 90S ROUND SUNGLASSES
Greetings from RAINY, NEVER SUNNY Pittsburgh!
**Note: my wet, ratty hair in these photos because, naturally, it's always down pouring in the Burgh**
Myrtle Beach can't come soon enough.
Today I'm wearing these destroyed denim longer-length shorts. Yes– LONG SHORTS. Can I get an AMEN?! Do you guys remember how freaking MINIATURE shorts were about a decade ago? I mean how did we ever even fit 1 single leg into those baby Hollister shorts?! Do they still make those? Or am I just 27 and old?
Regardless, thank god for the high-waisted trend and these long shorts because I am so not a fan of showing cheeks.
SHOP MY FAVORITE LONG SHORTS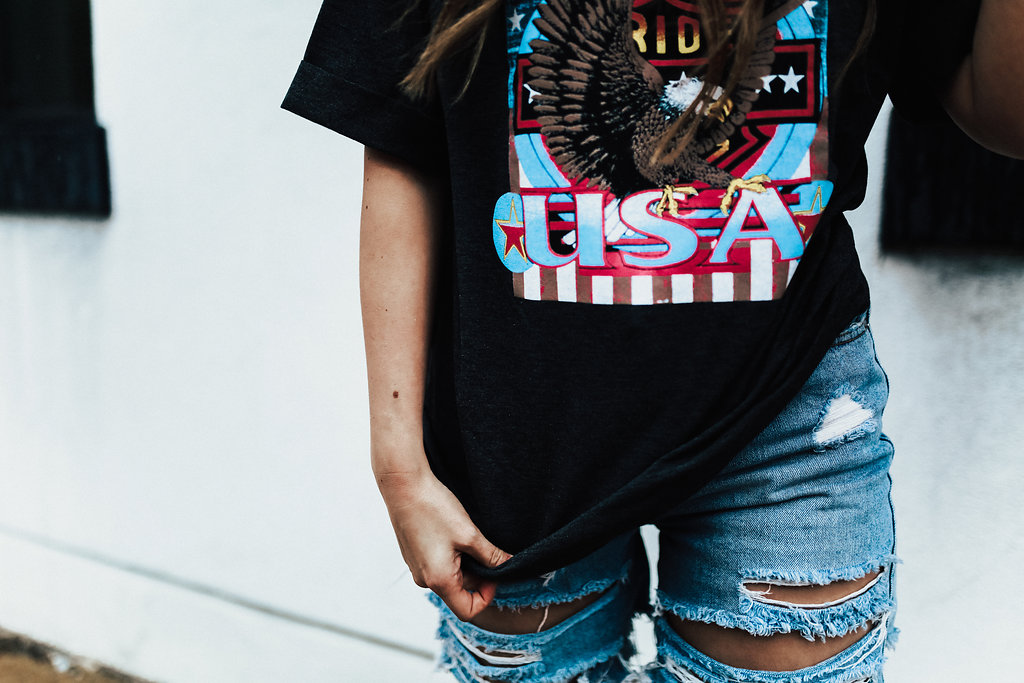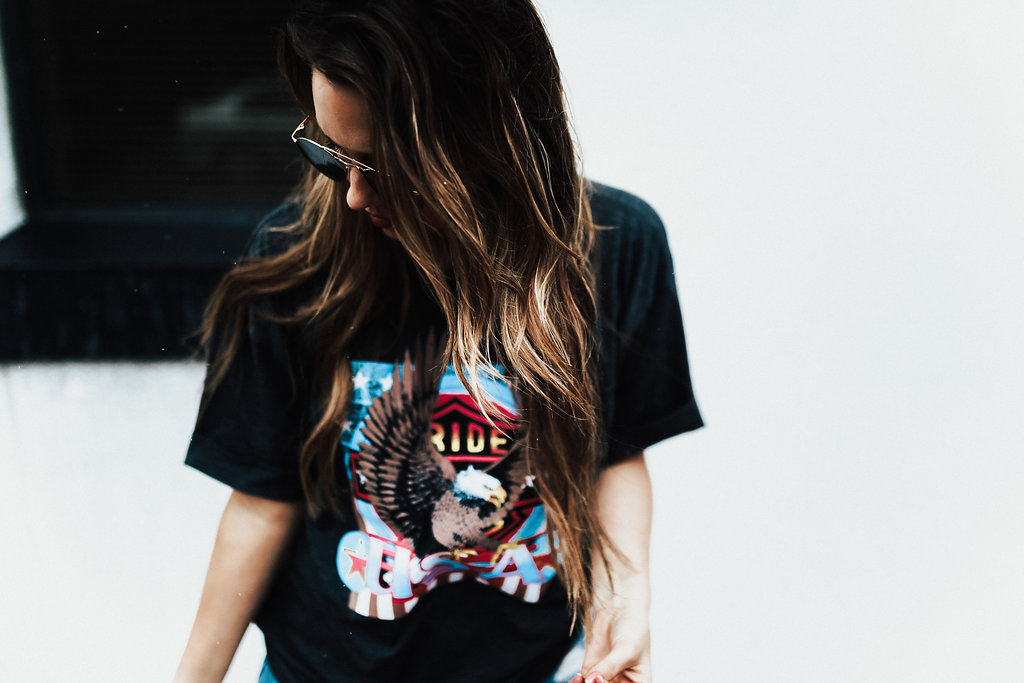 Now on to why I'm throwing in the towel when it comes to hair extensions.
Or maybe I should rephrase. I'm not "allowing" myself to get hair extensions again. And my hair stylist promised me that she wouldn't let me either!
Sure, I loved them, and they gave me a boost of confidence! Because what's better than long, luscious, curls? But there's also a money and maintenance component that comes along with having fake hair. After having them for a total of about 3 years, here's my take on hair extensions:
THE PROS
the beachy, loose curl look is easy to achieve
they didn't damage my hair and my hair actually grew while I had them in
they're super fun to have while you're still living at home (…and aren't broke)
they're so, so pretty (unless your hair stylist doesn't know how to blend them)
THE CONS
they are time consuming — I always had to curl them (I thought mine looked bad if I kept them straight)
they took a good chunk out of my wallet over the months and years
they are most certainly NOT practical when you have other bills to pay
it took me about 7 years to dry my hair every time I washed it
I started to feel too "fake" (to each their own, though!)
I'm aiming for more simplicity and practicality in my late twenties. Josh keeps messing with me now that I had my 27th birthday that I'm no longer in my early or mid twenties (insert shifty-eyed emoji). WE'LL SEE HOW THE NEW AND IMPROVED ADULTING PLAN GOES!!
**looks in closet and sees 30 pairs of black heels**
Talk soon!