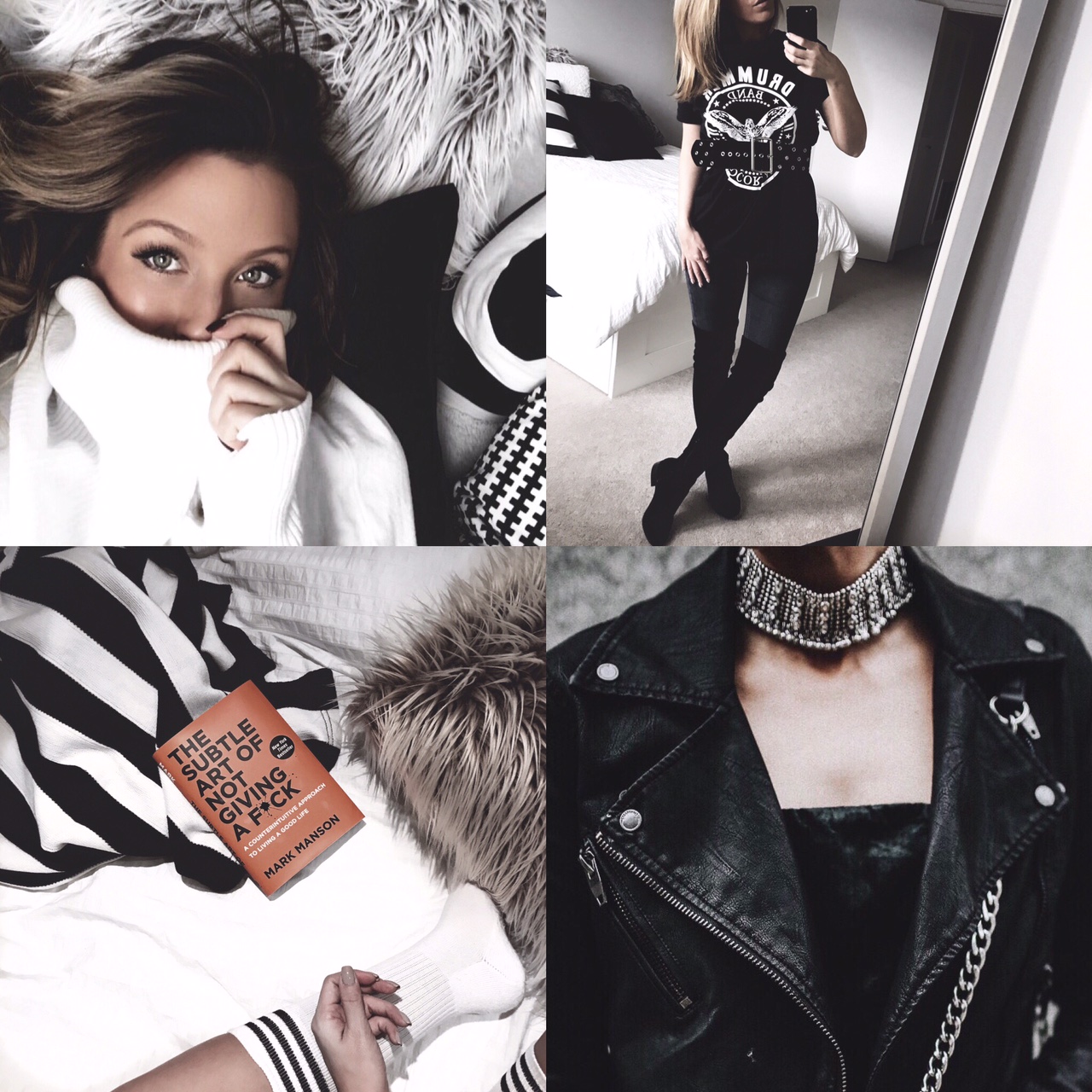 Here we are again for an Instagram round-up where I highlight 4 photos from my feed. Let's get right to it:
Oversized Turtleneck – I scored this in THREE different colors thanks to my fellow stylish blogging friend, Payton, of Hustle & Halcyon. It's a one size fits all kinda deal and it took about a week and a half to deliver but it was worth it! I have it in camel, white, and black. Did I mention it's pretty dang cheap, too? Check it out here.
Graphic Tee & Wide Waist Belt – I love when I find a good graphic t-shirt because I feel like they are so hard to come across. Maybe it's just me but I'm picky. I love this B&W one paired with a chunky waist belt. Unfortunately the belt shown in my IG got picked over but I found a similar one for you guys (I might even be more into this one). I have my eye on this graphic tee right now too and am a hot second from pulling the trigger.
Book – Maybe this is a little inappropriate and/or aggressive to post on here but it's JUST a title (catchy, huh?!) Amazon describes this book like this: "There are only so many things we can give a f**k about so we need to figure out which ones really matter, Manson makes clear. While money is nice, caring about what you do with your life is better, because true wealth is about experience. A much-needed grab-you-by-the-shoulders-and-look-you-in-the-eye moment of real-talk, filled with entertaining stories and profane, ruthless humor, The Subtle Art of Not Giving a F**k is a refreshing slap for a generation to help them lead contented, grounded lives." This is a must-read in my eyes!
Chunky Choker – this accessory is quite the statement but so, so beautiful. It adds so much to just a simple outfit and I love that about it.
SHOP THE POST

That's it for today! I have a longgggg to-do list for today. There's something about crossing things off of a list that is so satisfying. Trying to start my Monday off strong.
Stay tuned for some Valentine's Day-themed posts!